Montgomery County Democrats celebrate opening of Election 2008 Campaign Headquarters with ribbon cutting and festive atmosphere! Local party officials and representatives turn out for jubilant event!

With the handicap access ramp's paint scent still fresh in the air, Tuesday evening saw the Montgomery County Democratic Party, (MCDP), host a jubilant election headquarters grand opening. Party officials, elected representatives and 'names to remember' were on hand to mark the event. The ribbon cutting at 534 Madison Street was marked with congratulatory thanks to all the supporters who came out to the event. The office will be open from 2-5 p.m. until the Democratic Convention is over; after the convention, it will be open full time.
State Rep. Joe Pitts, State Senator Rosalind Kurita, former House Majority Leader Kim MacMillan along with MCDP Chair Gene Lewis all held the ribbon as a smiling Senator Kurita cut the cloth. With a smooth single stroke, the headquarters doors were open and everyone flowed inside for refreshments. Attendance was estimated to be over 150 persons.
The MCDP will conduct and coordinate all of its 2008 general elections campaign activities at this location. In addition, Clarksville for Obama will conduct all of its remaining campaign activities from the 534 Madison Street site as well. The building sits at the intersection of University Blvd. and Madison Street, across from the Madison Street Christ of Christ.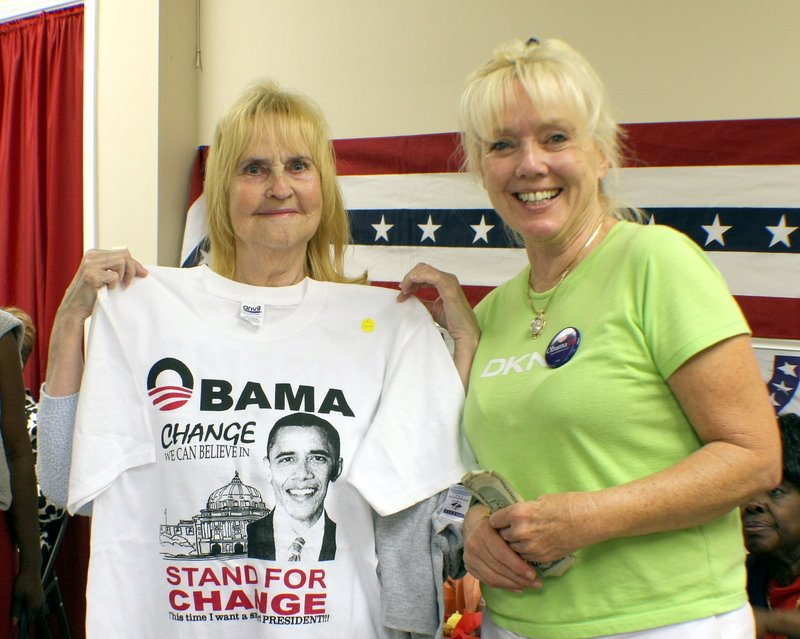 Several of the regional candidates brought campaign material for distribution to promote their campaigns. David Davison provided lawn signs in addition to personal fans. Ryan Morris also had lawn sign signs on hand. The Bob Tuke for Senate Campaign conducted volunteer sign-up. Rev. Charles Moreland had his "Prayer for Obama" brochures on display. Clarksville for Obama staffers had a table with campaign buttons and car bumper stickers for sale. Also a fresh shipment of Obama '08 T-shirts arrived and was immediately opened to a myriad of calls for purchase. Senator Kurita was among the first to purchase one of the Obama '08 "Change You Can Believe" T-shirt.
Along with the those named above, also in attendance were County Sheriff Norman Lewis, Clarksville for Obama campaigners Jim and Nan Roberts; Cindy Pitts, wife of Rep. Joe Pitts, candidate for 7th Congressional District Ryan G. Morris, candidate for the State House District 78 seat David Davison, Ward 8 City council candidate David Cutting, Senate district 22 challenger Tim Barnes and his wife Linda, TNDP Executive Committeman Keith Jackson, Dr. Richard Gildrie, Dr. Howard Winn, and MCDP Treasurer Barbara Brown.
Also attending were Clarksville for Obama campaigner JoAnn Latz,Tyrone Taylor-Montgomery County Co-Chair for the "Bob Tuke for U.S. Senate" campaign, Dr. George Kurita, MCDP 1st Vice-Chair Kim Smith, Freda and Donald O'Neal, Hispanic Chamber of Commerce member and community activist Angel Natal, Clarksville for Obama Campaign Chairman Terry McMoore, APSU College Democrats President Adam Haynes, MCDP 3rd Vice-Chair Robert Lewis, MCDP 4th Vice-Chair Betsy Ignacio, community activist Virgina Hatcher-Simms along with MCDP Secretary Brenay Poindexter, Horace Murphy and his wife, Dr. Jean Murphy, Caribbean Drums Performer/Instructor Ivin Roberts and Pastor Timothy Grant.
Along with the trays of finger vegetables, sliced meats and cheese, diced fruit, the sheet cake and chilled fruit punch, networking was busily conducted. Introductions, acquaintance renewals and campaign support pledges, well wishes, congratulations and fund-raising abounded.
Upcoming Clarksville for Obama activities include a House Party in Adams, TN on Saturday, August 23rd. More details forthcoming. There will be an "Organize for Change:" Convention Watch Party on August 28th at MCDP Headquarters. For more information on Clarksville for Obama, to purchase t-shirts, buttons or bumper stickers, or to sign up to host a house party, get event hosting assistance or otherwise support the Obama in '08 campaign, visit their website: <www.clarksvilleforobama.com.>
The Montgomery County Democratic Party General Membership Meeting will be held Tuesday, August 26th at the new election campaign Madison Street headquarters. For additional information or questions, please contact: Gene Lewis, MCDP Chairman at (931) 801-6209. As the Democratic Party National Convention sweeps to an end this weekend, the MCDP headquarters will swing into action. the MCDP headquarters phone number is 931-552-5523. Volunteers are always welcome.