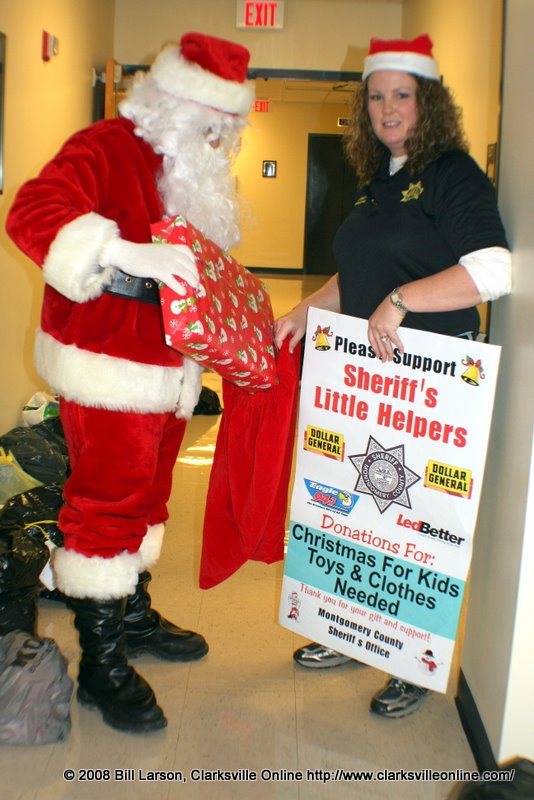 Christmas became a lot brighter today for 235 children including many at Fort Campbell. The Montgomery County Sheriff's Department, working as "Santa's Little Helpers", in cooperation with Eagle 94.3, Dollar General,  Ledbetter's (signs), and Golden Rule completed delivery of hundreds of holiday toys that had been collected from local churches, business and the general public. The beneficiaries of this effort include the Fuel Program,  Montgomery County Head Start and the Wounded Warriors.
Thousands of donated items were sorted by age and gender, and every effort was made to get the toys matched up with the individual wishes of the children registered for this program, according to Julie Wright, administrator of the program. In one case, gift wrappers weren't sure if the child named was a boy or girl, so volunteers packaged gifts for each gender.
Wright explained that the program was their way of  saying "thank you" to the soldiers who protect our country just as the Sheriff's department protects our community.
Sheriff  Norman  Lewis said "seeing the look on children's faces as they open their gifts" made all the work and preparation worthwhile. Volunteers have been wrapping and tagging presents 8 hours a day since Monday.
With over one thousand toys leftover, the remainder will be donated to other programs and charities  in the community.
Sheriff's Department  Photos by Bill Larson