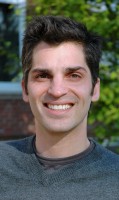 Dr. Blas Falconer, an Austin Peay State University professor recently named a recipient of the 2009 Maureen Egan Writers Exchange Award, will read from his work next month in Nashville.
Falconer, who teaches literature at APSU, will present at 6:30 p.m., Wednesday, June 3 at the Nashville Public Library, located at 615 Church St., between Sixth and Seventh avenues. The event is sponsored by the Nashville Public Library and the Women's National Book Association.
A Nashville resident, Falconer earned his Ph.D. in creative writing and literature at the University of Houston and has taught at APSU since 2003. Falconer has won numerous honors and is the author of "A Question of Gravity and Light," a collection of poems published by the University of Arizona Press in 2007. He is an editor for Zone 3: A Literary Journal, as well as the co-editor of two anthologies: "Mentor and Muse: Essays From Poets to Poets," forthcoming from Southern Illinois University Press in 2010, and a collection of essays on contemporary Latino poetry, forthcoming from University of Arizona Press in 2011.
For more information on Falconer's event, call (615) 862-5800.