The New Revisionist Uncle Tom's Cabin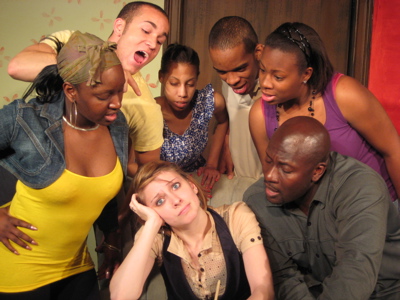 Taking the lead in bringing cutting edge, big city style drama to a black box environment, the stage at the Amun Ra Theatre will take on a whole new persona with its third play, the Nashville Premiere of "I Ain't Yo' Uncle: The New Jack Revisionist Uncle Tom's Cabin". The show runs from June 12th through the 28th.
The play takes Harriet Beecher Stowe's abolitionist novel, Uncle Tom's Cabin, and spins it on its ear. Old stereotypes get to meet their creator, as Uncle Tom, Topsy and Eliza put Harriet Beecher Stowe on trial for not only perpetuating negative stereotypes but also for failing to "get their story right".
In this play these same stereotypes reinvent themselves, while the story gets updated from their own Afrocentric perspective in such a way that it not only retains the story's original power, but also draws sharp parallels on matters of race between yesterday and today.
"This play is not for the weak of heart or the thin of skin," said ART's Artistic Director, Jeff Obafemi Carr. "But it is for people who are ready to keep pushing the envelope and see some work that they will be discussing for months. Many of the actors in this show are graduates of our Teen Ensemble, and they've stepped up under the thoughtful artistic guidance of Kenetha Rogers to tell one heck of a story. We'll only be doing 8 shows, so I'm encouraging everyone I know to get their tickets early. This phenomenal play will be an eye opening experience for all to see".
The play stars Tamara McMoore, a Tennessee State University theater major, Kenwood High School Graduate, and daughter of Clarksville Online author Terry McMoore and his wife Wanda. It co-stars Jessica Townsend, Regan Fleming, Bralyn Stokes, She' Marica Jordan, Willie Robbins, Sharita Smith, and Darius Willis as "Uncle Tom".  The play was written by Robert Alexander, and directed by Kenetha Rogers
The reviews continue to pour in for this dynamic production.
"…Produces the haunting effect of lingering drama" – The New York Times
"a unique blend of outrageous melodrama, laugh-out-loud humor often tinged with poignancy" – San Diego Playbill
Performances: June 12th – 28th, 2009 – 8 Shows Only!
Location: Amun Ra Theatre Playhouse 2508 Clifton Avenue Nashville, TN 37208
Tickets: $15.00 available online now at www.brownpapertickets.com, or by calling 1-800-838-3006
*As an added bonus, ART has figured in the fees so that when you purchase a ticket online for this show, the true end price will be $15.00 per ticket. Recession-proof us by buying your tickets today!
PARENTAL ADVISORY: This play contains ADULT LANGUAGE. Parental discretion is STRONGLY ADVISED.