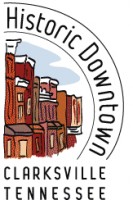 The Walt Disney Company entered into the live entertainment business in 1994 with its production of Beauty and the Beast, which we presented here in 2005. We followed it with Aladdin Jr. and Jungle Book. This season we are presenting Disney's CINDERELLA Jr., performed by forty young Clarksvillians (ages 10 to 18) from our Saturday School for the Arts.
CINDERELLA Jr. runs May 29 until June 13, playing Wednesdays, Thursdays, Fridays and Saturdays at 6pm, with 2pm matinees on Saturdays. Poor Cinderella is endlessly mistreated by her wicked stepmother and stepsisters … but with a little help from her mice friends and a lot of help from her Fairy Godmother, Cinderella goes to the ball, meets the Prince and falls in love!
Call now and reserve those seats! All tickets are $10.
This month's Art Walk is Thursday, June 4, which is a good opportunity to visit the Roxy's Peg Harvill Gallery and view the paintings of Betty Liles. Enjoy wine tasting via the generosity of Horace Heggie from Pal's Package Store, and stay for the 6pm performance of CINDERELLA Jr. The show runs approximately an hour, so you will still have time to visit the other galleries and businesses participating in the Art Walk.