Ragazza Pizza is a brand new take out restaurant opening in south Clarksville on June 3rd. They specialize in "take and bake" pizzas and delicious pasta dishes. The restaurant is located at 1206 Highway 48, just south of the Clarksville city fairgrounds. Their hours are Monday through Thursday from 10:30a.m till 8:30p.m. Friday & Saturday from 10:30a.m. till 9:00p.m. Sundays from 12:00p.m till 7:00p.m.
The business is locally owned and operated by cousins Julie Rhoads and Maryellen Katz, which is appropriate because Ragazza means "girl" in Italian. The restaurant employees 12 people, many of them also female.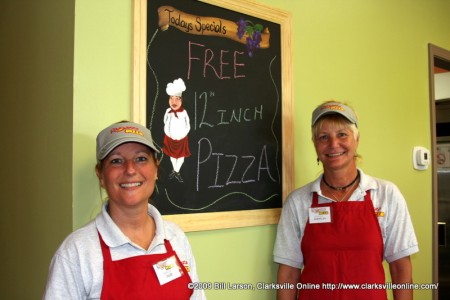 Ragazza Pizza offers a wide selection of Gourmet Pizzas including the Philly, 1 pulled pig (BBQ), Bacon cheese burger, Taco, Garden of Eden (Vegetarian), and the seafood rich Neptune Pizza which features seasoned shrimp and scallops. For those who are looking for something different they have a selection of incredibly tasty pastas in individual or family sizes.
They also offer custom built pizzas to your specifications, with the option of three different types of crusts: regular, Garlic, and whole wheat. They offer 6 different sauces; along with huge selection of meats, cheeses, and vegetables.
You have the choice between pickup and delivery (in the south Clarksville area). It is important to note that most items must receive additional cooking before you can eat it.
Come by check them out, and grab one of their take out menus. I know after you try their food you will be a repeat customer, like I know I will be.
Julie wanted to thank Ellen and Danny at First Federal Savings Bank for their assistance for arranging the financing for the business loans.
If you have any questions give Ragazza Pizza a call at (931) 648-8282, and be sure to let them know that you heard about them via Clarksville Online.