Local legislative delegation member chosen for national political leadership training program at University of Virginia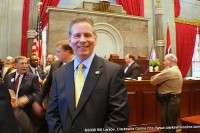 State Rep. Joe Pitts, State House District 67, has been selected to participate in the 2009 Program for Emerging Political Leaders. The leadership training program is sponsored by the State Legislative Leadership Foundation (SLLF) and the Darden School of Business at the University of Virginia. The prestigious program is an annual event held on the campus the University of Virginia.
The selected participants are first nominated by the Speaker of the House, President of the Senate or Minority Leader from their state. Those state political leaders are asked to nominate one or more members "who by their actions have demonstrated those qualities we associate with leadership—integrity, compassion, intelligence, vision, and common sense." The program aims to inspire these selected individuals to continue careers in public service. Representative Pitts is one of only fifty state legislators chosen from a nationwide pool of outstanding applicants.
SLLF spokesperson Sharon Smith noted that class discussions will examine qualities and characteristics of leadership including: ethical leadership, the art of compromise and coalition building and the philosophical underpinnings of representative democracy. The discussions will be lead by Professor Ed Freeman, the Elis and Signe Olsson Professor of Business Administration at the Darden School and co-director of the Olsson Center for Applied Ethics. A distinguished UVA faculty along with Dr. Thomas Little, Curriculum Director of the State Legislative Leaders Foundation, will join Dr. Freeman.
As Stephen G. Lakis, President of the State Legislative Leaders Foundation, has noted "These legislators represent the best and the brightest, and are destined for future leadership roles in their state. After being with these people for several days, you can't help but feel proud and more confident about our unique system of representative democracy. They are just that good!"
In a press statement, Pitts said, "Obviously I am quite pleased and honored to have been chosen for this program."  He continued, saying, "I have an obligation to do anything that will ultimately help me serve my constituents, and the state of Tennessee, in the elected position they have entrusted to me."