Biologists across the country are trying to find out more information about the white-nose syndrome fungus that has caused the deaths of hundreds of thousands of hibernating bats in the last three years. And the Austin Peay State University Center of Excellence for Field Biology will be an integral part of that discovery.
Dr. Andrew Barrass, program manager and principal investigator at the Center for Field Biology, said APSU is the only university asked to participate in a state plan to monitor the white-nose syndrome (WNS) crisis.
"We are the only university that was asked to participate," Barrass said. "This soon could affect Tennessee caves and bat communities." He also noted that the "crisis and potential spread of the fungus could prompt cave closures."
In bat populations across the nation, WNS is a fungus that attacks bats as they roost or hibernate. It is called WNS because it is a white fungus that attacks and lines the nose and mouth of infected bats. The fungus has been associated with bat deaths primarily in the northern states.
Specifically, the center has been asked to develop acoustic transects to monitor for bat calls or vocalizations along 20- 30-milelong corridors in Montgomery County and at Land Between The Lakes National Recreation Area.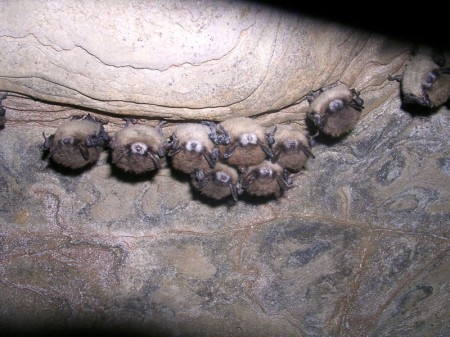 The Center for Field Biology has been studying the bats in Dunbar Cave since January 2006. This was in response to a request by park officials and state biologists who recommended a survey of bats, both before and after the construction of the bat friendly steel gate at the cave entrance in June 2006. The cave surveys are conducted at least once a month throughout the year.