Inspiring Community volunteerism, innovation and change!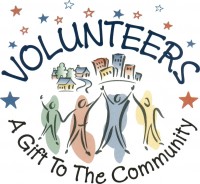 Over the past six years I have been blessed and fortunate to work with so many local non profit providers in our Community. It was through these relationships, collaborations and partnerships that I came to realize first hand how volunteering and community service makes such a difference in the lives of individuals and families right in our own community. Volunteers make Clarksville a better place!
What I know for sure is that working together cultivates even greater community support, stewardship, lasting relationships and long lasting partnerships and these are the essential elements for building strong, healthy and viable communities.
President Obama said that the challenges we face are unprecedented, and  this is the time for all of us to build a new foundation for economic growth in our country. We have seen over the past several months new investments by the administration in our country, but government can not do do everything alone. Our recovery is about working together right here in our own community doing what we can to help, rebuilding our country one community at a time.
We have what it takes! Every community has riches beyond belief –these riches are the citizens who live here. We all have gifts and talents to share, but how do we reach volunteers with diverse demographics, abilities and community representation? How can we open the door a little wider to service in our own community?  I know that there are many individuals and community groups out there that want to volunteer their time and expertise in the community in a variety of ways. Imagine what Clarksville would be like if we could harness that powerful spirit of volunteerism in our community.
You are invited to an "Idea Exchange" about developing a formal volunteer program called GoClarksvilleTNVolunteer!  The meeting will be held at the Clarksville Montgomery County Library, 350 Pageant Lane in the small meeting room on July 9, 2009 at 10:00 am. Please RSVP by e-mail or you may reach me at 615-504-0285.
I look forward to seeing you on July 9th.
Sincerely,
Rita Arancibia
GoClarksvilleTNVolunteer Overview
Volunteerism inspires us and has the potential to change our world one community at a time!
GoClarksvilleTNVolunteeer will function as a volunteer network to connect individuals, groups, government and local businesses in Clarksville.
GoClarksvilleTNVolunteer builds capacity for effective volunteering through non profit support, resources and professional training opportunities.
GoClarksvilleTNVolunteer promotes and celebrates Volunteerism in our Community
GoClarksvilleTNVolunteer particpates in strategic partnership initiatives to mobilized volunteers to strengthen our community.
Clarksville is home to many PEOPLE- and there are many needs and opportunities for all of us to pitch in and help make Clarksville stronger and more connected.
People bring diverse talents, perspectives and contributions to our community. Each person has opportunities to enrich the lives of others in our community and their own lives through volunteerism.
Involvement – volunteering provides opportunities for personal growth through sharing skills, interests and talents.
Community – collaboration and cooperation between individuals and organizations are the basis for a stronger and more productive community.
Ideas for program
A searchable volunteer opportunities, wish list database and volunteer calendar
Weekly Volunteer Opportunities Update
Training and networking for volunteer managers
Volunteer networking group for Volunteer Program Staff
Online resources for Volunteer Managers and Volunteers
Newsletter
Annual Community Volunteer Recognition Program
Annual Community Volunteer Connect Event