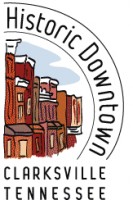 You're invited to join the merchants of Historic Downtown Clarksville for the monthly Art Walk, which will be held this month on August 6th from 5 – 8 p.m. Paige King from Hodgepodge sent us this information about August's artistic extravaganza.
Visions Metaphysical Boutique will host Deborah Raleigh-Chandler, oils–impressionistic, still life; Afton Chandler, acrylics–modern, impressionistic; Amanda Harrison, acrylics–modern, impressionistic (some new pieces); Linda Cain, handcrafted sterling silver & gemstone jewelry (some new pieces).
Hodgepodge will host their first father/daughter show. Tommy Adams and his daughter, Laura, share a love art and creative expression, but have chosen different media for the work. Tommy Adams will show a variety of work in a mixture of mediums, such as oils, watercolor, pen & ink, and charcoal. He prefers landscapes, but has been known to produce an occasional still life or portrait. Laura's chosen media is photography. Her work is very diverse—from flowers to structural elements of a building or bridges. She works in both color and black & white. She is rarely without her camera and is always ready to capture her view of the world. Both enjoy the study of older buildings and architecture.
Rogate Hadley, owner of Rogate's Boutique, states she will host Clare Coyle Taylor. Clare, like many artists, works in a variety of media, bringing her own perspective to each work. She has several pieces to show and sell.
Visions Metaphysical Boutique will have an opportunity for public art expression during art walk. They will have two canvases (one for kids, one for adults) available for art walk patrons to compose a collective work of art. While there, you can also have a reading done by a new card reader who does "Spirit Sketches." Stop in and check-out these unique concepts!
ARTifacts will feature Erin Slauson, a ceramic artist and student at Austin Peay State University. Her work is a unique blend of decorative Raku pieces and functional stoneware bowls. She combines patterns, textures, and geometric-like shapes with organic forms to acheive the design of each carefully constructed handbuilt piece. Her thrown stoneware bowls are completely food-safe and finctional, while all of her Raku work is not. "I intend for them to be sculpture, pieces of art to be viewed and admired. This process renders the bowls unusable for food or liquid, solidifying my intent for them to be sculptures first and a bowl second."
Downtown Artists Co-op and Dr.William H. Wall, III,D.D.S. present "This Sky, This Gesture", an exhibit of new photographs by DAC member artist Susan Bryant.
The new work consists of images of skies and hand gestures, exploring the expressive qualities of each, and utilizing several photographic process including tintypes, images from a plastic Holga camera and digital prints.
The opening reception is Thursday, August 6th from 5-8pm at DAC, 96 Franklin St. as part of First Thursday Art Walk. The show will remain up through August 22. DAC is open Wednesdays-Saturdays noon-6pm. and, for this exhibit, by appointment by contacting Susan Bryant at or 647-6171.
The Roxy will continue to host a show by Beverly Parker in their Peg Harvill Gallery. Patrons are also invited to catch the 7 PM performance of RENT. Tom and John have assembled an unparalleled cast of actors who bring this amazing work to life—Vie la Vive Boehm!
Collector's Pride Antique Mall and Ingredients, both located on Strawberry Alley will be open in support of the Art Walk, as will JuJu's on Franklin Street.
Images from the July Art Walk, and DAC events