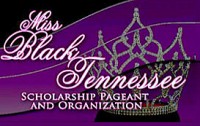 The Miss Black Tennessee Pageant 2009 will take place on October 25th at the Hotel Preston 733 Briley Parkway, Nashville, 37217 starting at 6:00 p.m.
This year's pageant host will be April Woodard the Internationally Acclaimed Broadcast Journalist & Anchor with Inside Edition & BET. She is also a Former Miss National Black USA.
The theme for this year pageant is "Making the Impossible Possible" praises our virtue to overcome obstacles and remain strong with great admiration to our president Barack Obama who demonstrates the importance of perseverance, family unity, higher education, and faith.
Celebrate with the MBTN sponsors in a 'Tribute to the Origin of the Miss Black TN Pageant' with a special presentation honoring Oprah Winfrey the First Crowned Miss Black TN 1972.
The pageant is open to young women between the ages of 18-27 and the contestants will be judge in the following categories. Personal Interview, Health & Fitness, Talent, Evening Gown, and Question & Answer.
It's not too late to become a contestant and this year's there will be no charge for the entry fee.
For complete pageant history and information visit the Miss Black Tennessee Pageant website.
For more info contact: Lynet Payne – Executive Director lpayne@missblacktennessee.com