The Dave Loos Show will return to the Blackhorse Pub and Brewery on Franklin Street in historic downtown Clarksville, 6 p.m., Monday.
Last week's show was not held as the Govs played host to Freed-Hardeman.
«Read the rest of this article»


Senior Wesley Channels scored 20 points to lead Austin Peay men's basketball team to a 73-60 Ohio Valley Conference win against Eastern Illinois, Saturday, at the Dunn Center. The victory was APSU coach Dave Loos' 319th win as Governors head man, tying Cal Luther (Murray State 1958-74; UT Martin, 1992-99) for most victories while coaching in the OVC.
The victory improved APSU to 5-4 overall and 2-0 in the OVC while Eastern Illinois slips to 4-3 overall and 1-1 in the OVC.
«Read the rest of this article»


It's inside game limited to just 14 points, Austin Peay State University called on its guards to carry the load and they responded with aplomb in a 65-55 Ohio Valley Conference victory against Eastern Illinois, Saturday night, at the Dunn Center.
Junior guard Brooke Faulkner led all scorers with a career-high 20 points and sophomore guard Whitney Hanley chipped in 15 points as they combined to make six three-point field goals.
«Read the rest of this article»

The Clarksville Parks and Recreation Department's weekly recreation report provides Clarksvillians with a glimpse at the activities and events that are available from the Parks and Recreation Department for them to enjoy together as a family. This weeks highlights include:
Community Center Activities
Santa's Workshop at Christmas on the Cumberland
Two evenings at Santa's Workshop coming to McGregor Park
Downtown for the Holidays & The 50th Annual Clarksville Jaycee's Christmas Parade
«Read the rest of this article»


Due to popular demand, the exhibit Yousuf Karsh: Master of the Photographic Portrait has been extended through January 17th at the Customs House Museum. The suite of fifteen portraits by Karsh has never before been available for public viewing. The collection, which is available for purchase, is on loan from Haynes Galleries, Franklin, Tennessee.
Yousuf Karsh was known as the master of studio lighting. He had a gift for capturing the essence of his subject. Throughout his career, Karsh used a 1940s 8 x 10 bellows Calumet camera. One of his trademark techniques was to light the subject's hands separately.
His portrait of Winston Churchill catapulted Karsh to fame when it was sold to Life magazine. This portrait is included in the museum's exhibit. Also included are Albert Einstein, Pablo Picasso, Muhammad Ali, and others. At first glance, the images staring back you appear more as charcoal renderings than photographs. «Read the rest of this article»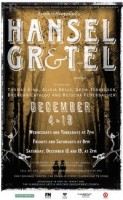 The Roxy Regional Theatre is currently running their version of the enchanting Engelbert Humperdinck opera Hansel and Gretel. Lost siblings come across a sumptuous candy house, occupied by an old woman who has her own reasons for fattening up little children. The show playing December 4 through 19.
The musical play was adapted and is directed by John McDonald. It stars Drew Torkelson as Hansel; Alicia Kelly as Gretel; Brendan Cataldo as the Father; Reischa Feuerbacher as the Mother; and Dr. Thomas King as Rosina Dainty-mouth, the Witch; area children fill the role of the children taken by the Witch to make her gingerbread.
I attended the show on Friday evening, and the house was packed. Continue reading for my review of that performance. «Read the rest of this article»