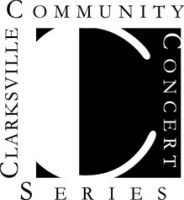 Sunday afternoon, in the third concert of the 2009-2010 Clarksville Community Concert Association and the APSU Center of Excellence for the Creative Arts played host to the gregarious Nikolai Massenkoff and the colorful dancers and talented musicians of the Massenkoff Russian Folk Festival.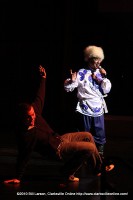 This had to be the most fun of all the Clarksville Community Concert Association's Concerts that I have had the pleasure of attending. In this concert, audience participation wasn't just appreciated, it was expected! One audience member was invited up on stage to participate in a fast moving Russian dance. At the end of which, Nikolai joked that the young man would be expected to continue on tour as the newest member of the Festival!
The Festival dancers twirled, leaped, and strutted across the stage in their vibrant costumes. Illustrating the romantic Russian music with deft moments of their bodies.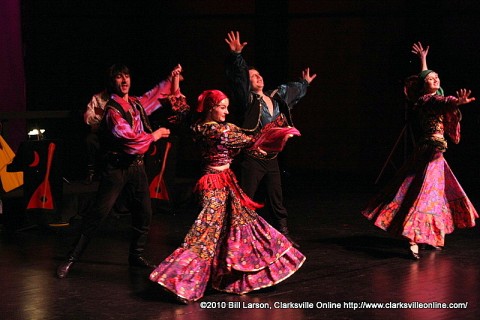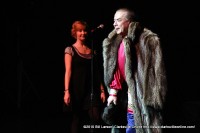 Nikolai Massenkoff, the star of the MASSENKOFF RUSSIAN FOLK FESTIVAL was born in the White Russian community in Shanghai, China. He escaped Communism, and at the age of three, he was placed in St. Tichon's Orphanage, founded by St. John of Shanghai Russian Orthodox Orphanage. It was there he had his first musical experience, singing and chanting. He went on to culminate a B.A. in Music (Voice), Drama and Speech. Nikolai studied with operatic greats from Juilliard, Villa Schifania, American Institute of Music and participated in the Tchaikovsky International Voice Competition in Moscow, Russia. In 1975, Nikolai founded the MASSENKOFF RUSSIAN FOLK FESTIVAL, a festival of Russian music song and dance because of love for his Russian heritage.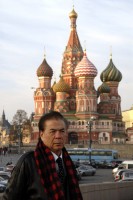 The Russian press has hailed Nikolai saying "Massenkoff conquered us with his voice, which was full of warmth, like the July breeze on the Black Sea. In Moscow he overwhelmed us with his songs that seemed to push the walls aside…we could listen forever to his interpretation of our songs…"
In Clarksville, Tennessee the MASSENKOFF RUSSIAN FOLK FESTIVAL was comprised of Nikolai Massenkoff, the Balalaika Ensemble, Soloists, and the Russian Folk Ballet.
The songs were a rich tapestry ranging from Gypsy music to Fiddler on the Roof many sung with a rich bass-baritone warmth.
Program
Russkii Tanyets
Barynya Russian Dance: "Barynya" is a complimentary name for the woman of the house who is very important in all family and house matters, and is second only to, "Baryn," who is the Master of the house! This melody, Barynya, has a great dignity associated with the most important woman of the house, "Barynya!"
Svyetye Myesyats (Sve-tyet-mye-syats)
Svyetye Myesyats translated as "Brightly Shines the Moon. While my dear beloved one is away in a distant land!" An instrumental selection and one of the most important melodies in Russian folk repertoire performed by Massenkoff Russian Folk Festival Balalaika Ensemble on Russian Folk Instruments: Lev Zabeginsky, Prima Balalaika; Yan Khmel, Bayan (Russian version of the Accordion); Mikhail Smirnov, Bass-Balalaika.
Nikolai Massenkoff
Laureate of First International Festival of Russian Song, Moscow, Russia 2007, sings: Songs of old Russia
Polye, Russkoye Poolye (The Field – Field of Russia)
Field, field of Russia! Whether the moon is shining or snow is falling, in joy or sadness, I am forever together with you. My heart could never forget you! There is no comparison of you with Forests or Oceans, you are always with me – my youth, my freedom, my country and I will proudly proclaim that I am your single blade of grass!
Mytyelitsa (Snowdrifts)
Vdol'Po oolitsy myetyelitsa myetyou… Along the street snowdrifts are blowing, behind which my adorable is walking… Stop! Stop for a moment and allow me my joy, to set my gaze on your beauty…
Karabeineek (The Peddler)
The story is about a peddler selling goods at the fair, where he meets an attractive dark-eyed lady. However, the story ends there and only the forest knows how it all ended.
Motrosky Tanyets (Sailor's Dance)
The dance is set to the very much liked melody of a Russian Folk song, Yablochko, which means a small apple. The dance projects a Russian Sailor's spirit, love of his country and love of his work being a Sailor!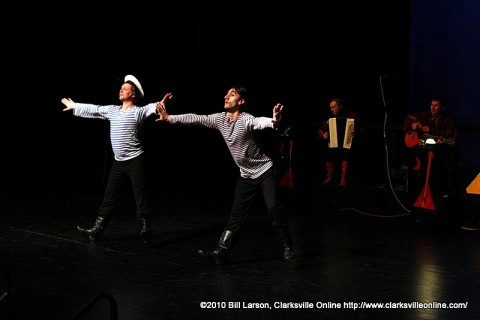 (Prima Balalaika Solo) Lev Zabeginsky is our Balalaika Virtuoso Artist. The most recognized Russian Folk instrument, the Balalaika, has three strings and is played without a pick with the fingertip, or plucked. The Balalaika plays a very melodic line or accented sharp, dramatic rhythmic chords.
Bar'ba: Nanaika – Struggle: Nanaika
A theatre piece and struggle for power. Please observe carefully this struggle for power between combatants and try to guess which one will be victorious!
Kozatskiye Pyesnee – (Cossack Songs)
Cossack song medley sung by Mikhail (Misha) Smirnov, who completed his musical education at the Russian Music Conservatory in Russia, specializing in Russian folk songs. He completed a Master's Degree in Chroal conducting and has mastered several folk instruments: Gitara (Guitar); Garmoshka (Russian folk Accordion); and Bass Balalaika (Russian Folk Contra Bass).
Kozatskii Tanyets (Cossack Dance)
The Cossacks are world famous for their horsemanship, their loyalty to Mother Russia, the Tsar of Russia and their comradery and bravery. The Cossacks also, on their days off, developed some of the most demanding dance because they take place in the squat position and in Russian and called, "Prisyadka," which means to squat.
Vdol Po Peetyersoky (Along St. Petersburg Boulevard)
One of the most important Russian folk melodies, on which Igor Stravinsky based his ballet, "Petruchka." This song has for centuries been the most expressive of the Russian spirit. It describes a Troika (Carriage with three horses) dashing on St. Petersburg's Boulevard with great speed in anticipation of celebrating a big holiday in a very grand manner, that includes the well-known Russian hospitality – food is in abundance, vodka is poured by the bucketfuls and there is always many hugs and kisses passed around, like the vodka in abundance. Please sing and clap along with Nikolai on the repeated, well-known refrain!
Tanyet: Kalinka (Dance: Kalinka)
Kalinka, one of the brightest, cheerful, fast moving melodies in the Russian Folk Repertoire, and is heard at every Russian Festival or Holiday. It is the "soul of Russia!" This melody is danced byu: Olga Chpital'naiya, Valentina Kvasova, Aleksey Mal'tsev, and Ilia Pankratov.
Russkii Oorok (Russian Lesson)
Nikolai will give you a very short, but extremely significant Russian lesson and teach you the most important words you should know: "Patsyelu" (Kiss me!). "Ya Loublyou Vas!" (I love you).
Tanyets: Danilo Kupor (Dance: Daniel Cooper)
Daniel Cooper dance was named after the composer of the "Contradance." which was a very popular court dance in Russia around 1812, the time Tolstoy described in "War and Peace." In this Russian folk ballet performance, we can enjoy the Russian Court dance combined with Russia folk dance. Dancers are Olga Chpital'naiya, Valentina Kvasova, Aleksey Mal'tsev, and Ilia Pankratov.
Solo Na Bayanye (Bayan-Accordion solo)
Yan Khmel is our virtuoso soloist on Bayan and is a Graduate of the Music Conservatory of the Ukraine.
Pyesnee Rodiny (Nikolai sings Russian peasant songs of Old Russia)
El Oohnyem (Volga Boatmen) A song that needs no introduction, it was made famous by Russia's great Basso, Feodor Chaliapin. It is said that the song helped the men pulling the boats upstream. It describes the river Volga, the largest river in the world, how deep and wide it is.
Yamsheek Nye Ganee La Shadei (Coachmen, Do not race the horses…)
Coachman, do not race the horses! Everything was false… farewell to my dreams and tranquility. My past seems to have been all a dream… never ending, returning and bringing back the past. Coachmen, do not race the horses… I have no where to go, I have no one to love…
Kalinka, Kalinka, Kalinka Maya! (Snow Bush)
One of the most widely known melodies around the world, it expresses the joy of people celebrating a sucessful harvest season, a holiday or a wedding… everyone sings, claps, and dances to the festive energetic beat. Please join singing: "Kalinka, Kalinka, Kalinka Maya!"
Tanyets: Evreiskii (Dance: Jewish)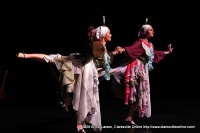 There are many Jewish people in Russia, and have been for many centuries. They are totally assimilated into the Russian culture, language and way of life. They have also preserved their own culture of rich tradition of festivities, songs and dances, which are totally a unique part of their heritage and culture.
Tsygansiye Melodii (Gypsy Melodies)
Balalaika Ensemble in most beloved Gypsie melodies so well known for their drama, passion, romance, sorrow and joy! Our musicians are Lev Zabeginsky, Prima Balalaika; Yan Khmel', Bayan (Russian version of the Accordion); Mikhail Smirnov, Bass-Balalaika.
Pod Moskovniye Vechera (Moscow Nights)
You can hear a song coming from afar. Balalaikas fill the air over golden domes and dim-lit homes… once again; I want to hold you close. There is magic in the air, only in Moscow…
Ochee Chyorniya (Dark Eyes)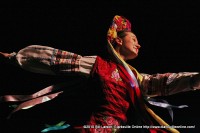 "Dark eyes captured me and enraptured me, set my soul aflame, when she said my name… I was hypnotized by those cruel eyes… you have forsaken me, and I am in agony".
Tsyganskii Tanyets (Gypsy Dance)
This dance is from the Bessarbian Gypsies (Moldavian Gypsy) . It comes to us by the Carpathian Mountains. The Bessarabian Gypsies have been expressing their vital spirit and dynamism through their distinct dances of life and passion, from a slow, enigmatic pace to a fiery finale….
Dorogoi Dlinnoyou (Those were the days my friend)
An old song made famous in Russia by Certinsky in the early 19th century.
As the was noted the program was subject to change and this is not a complete list.
Photo Gallery
Coming soon
The next Clarksville Community Concert Series features the Gateway Chamber Ensemble at 7:30p.m. on February 22nd. The Gateway Chamber Ensemble is a new and exciting ensemble providing the Clarksville and University communities with professional level performances of milestone works of both the past and future. Making use of a flexible instrumentation, the ensemble is based around Austin Peay State University's outstanding faculty and includes many of the area's leading professional musicians.
About the Clarksville Community Concert Association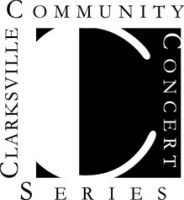 The Clarksville Community Concert Association under the auspices of Mid-Cumberland Arts League, is a nonprofit 501 (c-3) organization dedicated to presenting musical performances of high artistic merit in Clarksville-Montgomery County and promoting interest in and enjoyment of live concerts through community outreach and education.
The goals of the CCCA are achieved with support from the Austin Peay State University Center of Excellence for the Creative Arts, subscriptions, corporate donors, private contributors, as well as ticket sales.
The organization is operated by an all-volunteer board of directors and officers consisting of subscribing members from the community.
Become a member
Yearly Membership
A Value Subscription Package consisting of tickets to each of the five concerts (Purchased on or before August 31, 2009)
Family: (includes up to four children) $300
Adult: $100
Youth: (18 and younger or *non-APSU student with ID) $50
Individual tickets to the concerts *
Adult: $25
Youth: (18 and younger or *non-APSU student with ID) $12
*APSU students with valid ID admitted free to series concerts