On Wednesday, February 3 the NAACP released its annual Congressional Legislative Report Card which is an evaluation of the voting records of Congressional members on key NAACP agenda issues.
The NAACP has graded the U.S. Congress on the civil rights agenda since 1914. The report card provides a non-partisan assessment of the first session of the 111th Congress, and is designed to provide NAACP members and the nation with insight into the general voting patterns of congressional representatives and state delegations.
According to the latest report card, 59% of Senators and 47% of House Members received an "A" by the NAACP, while helping to pass several historical acts or bills such as the Hate Crimes Prevention Act, the Lilly Ledbetter Fair Pay Act, and the State Children's Health Insurance Program (SCHIP). «Read the rest of this article»
February 5th – 15th, 2010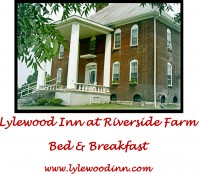 The Lylewood Inn Bed & Breakfast is planning something special for valentines day. They are offering special dinner and overnight packages just for this occasion. Treat your loved one to something different at Lylewood Inn. Come and enjoy a candlelight dinner for 2 or plan an overnight get‐a‐way.
The Candlelight Dinner Package includes: appetizers, salad, all you can eat main course, tea and coffee, dessert, and an evening to remember. You may choose from 4 menus upon arrival. $45 for 2 includes tax. Gratuities not included. «Read the rest of this article»
It was an evening packed with emotion. Judy Shepard the mother of Matthew Shepard, a gay man murdered because of his sexual orientation, was scheduled to speak at Austin Peay State University. The Westboro Baptist Church, the "God Hates Fags" people planned a protest on campus, which in the end was blocked by the APSU Gay-Straight Alliance reserving the free speech area on campus, the only place Phelps clan could have held a protest. In the mean time hundreds of APSU students lined College Street in anticipation of them making an appearance there. Oh what a night!
The Clement Auditorium was absolutely packed to the brim only 576 people could be safely seated inside the auditorium, and even more packed the lobby listening through the open doors. People young and old; men and women; colors spread across the spectrum; all orientations and identities (straight, lesbians, gays, bisexuals, and transgender) all gathered together in a celebration of diversity and a show of the unity of the APSU campus.
«Read the rest of this article»