It was an evening packed with emotion. Judy Shepard the mother of Matthew Shepard, a gay man murdered because of his sexual orientation, was scheduled to speak at Austin Peay State University. The Westboro Baptist Church, the "God Hates Fags" people planned a protest on campus, which in the end was blocked by the APSU Gay-Straight Alliance reserving the free speech area on campus, the only place Phelps clan could have held a protest. In the mean time hundreds of APSU students lined College Street in anticipation of them making an appearance there. Oh what a night!
The Clement Auditorium was absolutely packed to the brim only 576 people could be safely seated inside the auditorium, and even more packed the lobby listening through the open doors. People young and old; men and women; colors spread across the spectrum; all orientations and identities (straight, lesbians, gays, bisexuals, and transgender) all gathered together in a celebration of diversity and a show of the unity of the APSU campus.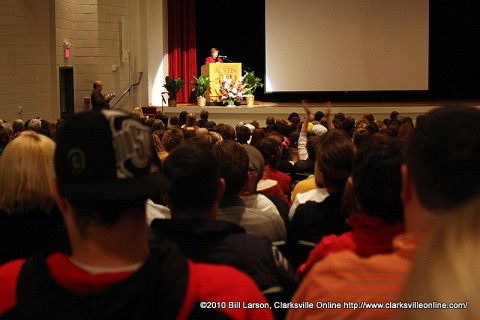 Judy Shepard's talk touched upon Matthew's death which she said "Dug a hole in my life," but her talk celebrated Matthew's life, and she issued a call to arms calling for all GLBT individuals to fight for the rights that they are still being denied today.
She always knew there was something different, something unique about Matthew, one of the early clues was the fact that Dolly Parton was his favorite costume she joked.. When he finally came out her at the age of 18, her response was heartwarming. "It's about time! What took you so long to tell me."
No parent is ever fully equipped to handle the disclosure that their son or daughter is gay, and Judy was no exception. She knew that she could trust Matt to teach her.
The Shepard Families lives were changed in an instant when they received the telephone call informing them that their son had been beaten to within an inch of his life, tied to a fence, and left to die in Laramie Wyoming. His body was not discovered until nearly 18 hours after the assault. "None of this made any sense to us, the degree of violence was just horrific," Judy said. Matthew never regained consciousness and died from his injuries five days later on October 12th.
Two men Aaron McKinney and Russell Henderson were subsequently arrested, tried and convicted of his murder. One of the defense tactics was claiming that they were driven temporarily insane as a result of alleged sexual advances by Matthew.
Judy Shepard doesn't believe that the two men that murdered her son bear the sole responsibility for their actions, "Our society also shares some of the responsibility." She explained that our society that taught these two men that "the lives of gay people are of lesser value than those who are straight."
She disagrees with those who see homosexuality as a choice, or life style, "You are who you are , and no one can change that. It is biology that makes you as you are" Judy continued "I have green eyes and I wear colored contacts I can have brown eyes, but when I take them off again my eyes are still green."
But she notes that this isn't about gay rights, it's about ensuring everyone has the same human rights and simple human dignities. "The only difference between someone who is gay or straight, is who they love." she said. Judy recognizes that America still has a long way to go, but she has faith we will get there. "We are supposed to be the country that sets the path in equality for every other country" she continued, "We have to make it right for our children and grand children." One path to change is for GLBT individuals to come out of the closet, for every person that comes out, it changes the debate for someone else.
As for the Westboro Baptist Church Judy dismissed them, "They are one of our biggest fundraisers. Whenever they show up, people become really motivated"  she observed.
Last year Judy Shepard wrote a book about her son's murder, "The Meaning of Matthew: My Son's Murder in Laramie, and a World Transformed" since then she has traveled all around the country to talk to about her experiences.
If either you or your child is gay, check out this absolutely amazing website that helps bring a bit of sanity to the subject…
Here is the video from News Channel 5 on the protest.