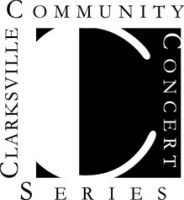 The Clarksville Community Concert Association is proud to be presenting the Gateway Chamber Ensemble in a concert this Monday evening.
The Gateway Chamber Ensemble is a new and exciting ensemble providing the Clarksville and University communities with professional level performances of milestone works of both the past and future. Making use of a flexible instrumentation, the ensemble is based around Austin Peay State University's outstanding faculty and includes many of the area's leading professional musicians. Their program consists of milestone works of both the past and present.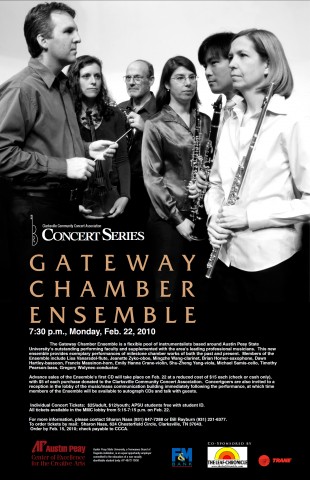 Tickets to Monday's performance by the Gateway Chamber Ensemble are free for APSU students, $12 for all students, and $25 for everyone else.
Monday's show, is the  fourth in a series of five outstanding concerts coming to town thanks to the Clarksville Community Concert Association. The 2009-2010 series comes to a close on April 10, when the Joel Frahm Jazz Quartet performs at  APSU.
Born in Racine, WI in 1969, Frahm attended the Mason Gross School for the Arts and earned his B.A. in Jazz Performance at Manhattan School of Music. He Released three highly regarded CDs on Palmetto: "The Navigator", "Don't Explain" (with Brad Mehldau), and "Sorry No Decaf." "Don't Explain," his latest, was the number one jazz release for radio in the United States for two consecutive weeks in 2004, according to jazzweek.com. Joel was also recently selected in DownBeat Magazine's Critics Poll as Rising Star in the category of tenor saxophone.
When: 7:30 p.m., Saturday, April 10, 2010
About the Clarksville Community Concert Association
The CCCA is a nonprofit organization dedicated to presenting musical performances of high merit to Clarksville-Montgomery County. The CCCA is partially funded by the APSU Center of Excellence for the Creative Arts. Information about the concert series and the Clarksville Community Concert Association is available online at www.clarksvillemusic.org. They will be presenting their 2010-2011 schedule at an event they will be holding in April, look for more information on that here very soon!
If you are a supporter of the arts in our community, and are are not currently subscribing to the series, please consider becoming a member!