A  Devotional By Brother Shep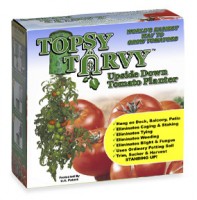 This spring Blanche and I brought a Topsy- Turvy tomato plant grower. It is working just find. The plants take a lot of water. This afternoon I noticed that the tomato plant was wilted real bad from lack of water.
The temperature is in the 90's here today. I watered the plant and in about a half hour the plant was starting to stand up and look healthy again.
This reminded me of what the bible says about god's word and our lives. Matt 4:4 "But he answered and said, It is written, Man shall not live by bread alone, but by every word that proceedeth out of the mouth of God."
Gods word gives us guidance, strength, comfort and wisdom.
Lets all take it in and as the tomato plant was revived when it got water, we can be revived and be better Christians.
This is Brother Shep asking you to think about this!
Sections
Spirituality
Topics
Bible, Brother Shep, God, Tomato Plant, Topsy-Turvy