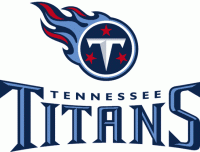 Nashville, TN — Single-game tickets to all 10 Tennessee Titans home games at LP Field will go on sale Saturday, July 31st at 10:00am (CST).
Approximately 3,000 tickets for each game will be made available to the public. Fans can purchase a maximum of up to four tickets per game for as many as two games.
Tickets can be purchased by visiting the ticket office at LP field, calling Ticketmaster at 1-800-745-3000, visiting any Ticketmaster outlet, or logging on to the Ticketmaster web site at www.Ticketmaster.com
Game tickets range from $45.00-$85.00.
"We are very appreciative of the loyal support of our fans," said Don MacLachlan, executive vice president of administration and facilities for the Titans. "It's always a big day for our fans and I'm sure it will be again."
The Titans have sold out 114 consecutive games since moving into LP Field for the 1999 season, including preseason contests. MacLachlan said season-ticket renewal rates have been strong this offseason.
The 2010 regular season schedule features home games against Oakland (Sept. 12th), Pittsburgh (Sept. 19th), Denver (Oct. 3rd), Philadelphia (Oct. 24th), Washington (Nov. 21st), Jacksonville (Dec. 5th), Indianapolis (Dec. 9th) and Houston (Dec. 19th).
The Titans play preseason games at home against Arizona (Aug. 23rd) and New Orleans (Sept. 2nd).
Tennessee's home games against Pittsburgh and Indianapolis are expected to sell out first, according to Marty Collins, senior director of ticket operations for the Titans.
Collins recommends trying a variety of ways to help secure tickets to your favorite Titans game.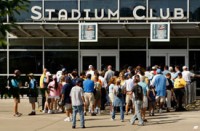 "If you have more than one person that can try to help purchase the tickets, try several sources at the same time," Collins recommended. "Try online and then maybe one of the ticket centers at Kroger's, Macy's or even down here at the LP Field ticket office early that morning."
Some fans have developed a tradition at LP Field by camping out the night, or even several days, before the tickets officially go on sale.
"We would be thrilled to have them back again at LP Field," Collins stated. "They have come back each and every year. We say the on-sale day is the start of the season for us. It kind of kicks off that day when fans start camping out the nights before. It says a lot for them to do that each and every year and we are thankful for that."
Collins expects the number of consecutive sell-outs to increase to 124 and compliments the team's fan base for its support over the last 12 years.
"First and foremost, to our season ticket holders, it's a great credit," Collins said. "We have a huge season ticket base that has been faithful now for 12 years in renewing their season tickets. All the other fans that have not been able to purchase season tickets have been very loyal in buying other single-game tickets. We would not be successful without our fans."