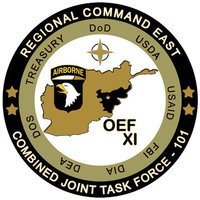 Kunar Province, Afghanistan – More than 100 elders affected by the recent operations in eastern Afghanistan's Kunar province gathered together in the Shura hall of the Marawara district center July 10th to discuss the Afghan constitution.
Less than two weeks after coalition forces and Afghan security elements rid the district of a large group of insurgents, the meeting was an unprecedented show of security and support for the Afghan government. Meshrano Jirga member Rafiullah Haideri, Kunar Governor Fazlullah Wahidi and Marawara District Sub-governor Sayed Mehboob Pacha joined numerous provincial-level and district-level government officials at the event.
"You have to be like a bridge between two sides so people can cross — telling people not to fight and encouraging them to go to the government," said Amir Mohammad Safi, tribal affairs advisor to the governor, during the meeting.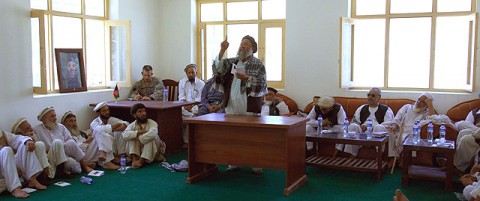 They planned the gathering after about 150 men from Marawara came to the governor's compound in Asadabad July 3rd at the invitation of Wahidi. During this meeting, the men announced their support for the Government of the Islamic Republic of Afghanistan.
The meeting at the Marawara district center, scheduled by Abraham Sutherland, Kunar Provincial Reconstruction Team Department of State Rule of Law advisor, and attended by members of the PRT, tutored the elders about Afghan law and government. The event highlighted the role of local government and the elders' own role in promoting security and working with their local government officials.
"Where there is rule and law, there will be no problems," said Noor Mohammad Khan, deputy governor of Kunar, in the meetings opening remarks.  "We are thirsty for better security."
He went on to urge the audience of elders, seated quietly along the floor of the hall, to be "against people who are against our country."
Haji Mohammad Wahab, Kunar Hoquq director, conducted the classroom portion of the event. He reviewed basics of the Afghan constitution with the elders discussing how the citizens of Afghanistan – whether man, woman or child – have equal rights and duties before the law and that no one will be deprived of the right of life other than by provision of the law.
More Photos