Marion Market returns!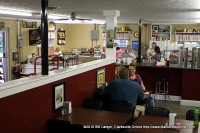 On Saturday, June 10th, Marion Market with Momma's Kitchen had their grand opening. The new owners, Tom and Darlene Davis, along with family and friends, worked together for over three months to get the place ready to re-open. "It took alot of long hours and work to get the store ready to open," said Darlene.
The store is located at 5933 Marion Road in Cunningham, just south of Indian Creek road, and carries all the items you would expect of a market. They have milk and bread, sodas, snacks, baking supplies, beauty aids, etc. The market will also carry hardware items. "We are trying to stock items people need to save them a trip into town," Darlene said. "You can think of us as your country Wal-Mart."
When they opened they had a handful of customers, but by 7:00am the place was packed and the stream of people did not let up until well after 2:00pm. During that time, Darlene and crew served up dozens of deli sandwiches and went through over 10lbs of hamburger meat making hamburgers. That doesn't count all the meat that went into hamburger steaks.
While redesigning the store, Tom and Darlene put in a full kitchen which has since become known as Momma's Kitchen. Darlene "Momma" Davis takes pride in her kitchen, and joy in cooking for others. If you look real close, you might see Momma's Momma in the back, whipping up banana pudding or some other delight.
The Marion Market with Momma's Kitchen is decorated with a country decor. From the old RC bottle, and ceramic rooster to the old Texaco motor oil sign, you just get the feel of a good old country store. Reminds me of when I was a child and my dad would take me down to the old Marion market. There would be men outside in rocking chairs playing cards or checkers. It has that same feel. Darlene has this motto, "If Seven Eleven and Cracker Barrel got married and had a baby, this store would be it."
In the coming months, Tom and Darlene plan to continue adding services to the Market and Kitchen. A deer check in station will be added. The store has already been approved for the Tennessee State Lottery. The Market will be able to issue hunting licenses. In the next week or so, Momma's Kitchen will be baking Hunt Brother's Pizza. A Red Box DVD rental center is also planned in the coming days. "You will be able to order a pizza, pickup a 2 litter of soda and rent a DVD for a family movie night without having to drive all the way into town," said Darlene.
While visiting with Darlene, singer Alison Krauss dropped by for the Grand Opening. Darlene and Alison met around eight years ago when Darlene appeared on the Wheel of Fortune TV show during Country Music Stars Week, where every day people are paired up with a country music artist. Darlene and Alison have remained good friends ever since.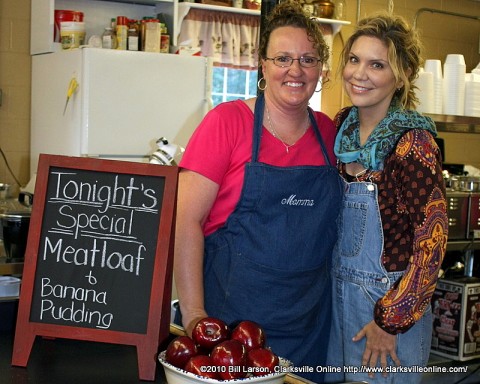 As with any new business the market needs your support! So if you are in the neighborhood, stop on by and pick up a loaf of bread or the milk that you have been needing. If your hungry, sit down and let Momma fix you up something special. And remember, you are always welcome at Momma's!
Breakfast
In the mornings, Momma's Kitchen serves eggs and bacon, sausage, ham, pancakes, hashbrowns, you name it. If your on the go, there are sausage, bacon and ham biscuits that can have egg or cheese added to them. Monday through Friday, during the busy hours, some biscuits will be kept ready for those that can not wait for Momma to cook'em fresh.
Lunch
For lunch, Momma has a variety of sandwiches to choose from like hamburgers, BBQ, grilled chicken and more. On the deli side, you can get tuna salad, chicken salad, bologna, turkey and ham sandwiches. Don't forget your side order of fries, onion rings, tator tots, and more. There is also the hamburger steak, grilled chicken salad and a soup of the day.
Daily Dinner Specials
Momma's Kitchen has daily dinner specials. Depending on the day, you could have baked spaghetti or meatloaf. There are two vegetables served with every plate. The vegetables will change daily as well. "When possible, our vegetables will come right from the local gardens so what we have will depend on what is currently in season," stated Darlene.
Dinner is served Monday – Saturday 5:00pm – 8:00pm, Sunday 11:00am – 2:00pm, and includes your choice of 2 vegetables
Monday – Baked Spaghetti
Tuesday – Chicken Broccoli Casserole
Wednesday – Salisbury Steak
Thursday – Chicken n' Dumplins
Friday – Lemon Pepper Chicken
Saturday – Meatloaf
Sunday – Changes weekly