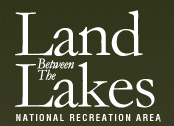 Visitors to Land Between The Lakes (LBL) National Recreation Area are advised to use extreme caution until further notice when having open campfires.
Due to drought conditions and high temperatures, the risk for wildfires is a concern at LBL.  The greatest area of concern remains backcountry campsites, where dry, grassy areas and leaves surround campers.  "Campers utilizing camp or cooking fires in backcountry areas create a very real threat of wildfires," stated Trent Girard, Acting Fire Management Officer at LBL. 
Campfires should be built in existing fire rings, or an area where a campfire already existed.  Campfires should be monitored at all times, and completely extinguished when an area is left unattended, even if it is only for a short amount of time.  Please report any unattended campfires immediately. 
Everyone is reminded to always use caution when disposing of lit cigarettes and matches.  Hot embers from unattended fires or cigarettes can easily be picked up by winds and blown into dry areas, causing wildfires even in developed camping areas and along roadsides.
LBL visitors are urged to immediately report any wildfires to Forest Service Personnel, or other law enforcement agencies by calling 911 or LBL's 24-hr Dispatch at 1-877-861 2457.
Sections
Area, Commentary, News

Topics
Campfires, Land Between the Lakes National Recreation Area, LBL, Wildfires