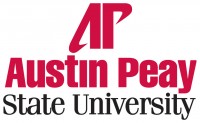 Clarksville, TN – The life of Stanley Tookie Williams, a founder of the notorious street gang the Crips, was filled with moments of such sorrow and attempts at redemption that it could have been a Greek tragedy.
At least, that's what playwright Gaye Jeffers thought when she fused Williams' story with Sophocles play "Philoctetes," to create a new work, "Philo." The play has its world premiere at 7:30pm, September 29th, in the Trahern Theater on the Austin Peay State University campus. It will run through October 3rd.
"It tells the story of a death row inmate on a search for redemption, and trying to deal with the sort of world he helped create by the founding of this gang, called the Greeks in the play," Chris Hardin, the play's director and assistant professor of theater, said. "Their rival gang is the Trojans. It's a really intriguing script, a really interesting story. I think it will fascinate a lot of people that it has any roots in ancient drama at all, because it feels so contemporary."
The play was written over the course of the summer when Jeffers, a professor at the University of Tennessee at Chattanooga, visited the APSU campus for a workshop with drama students.
"We did a series of readings with the playwright," Hardin said. "She listened, changed things, rewrote things, talked with the students about her characters, what they thought about the characters, and she used that to inform how the play actually wound up being shaped."
The play is loosely based on Williams' life. In reality, the former Crip founder went to jail for murder, and while on death row, he denounced his violent past and gang culture. He wrote several books, including works geared toward children, but he was executed in 2005.