November 4th Ceremony Commemorated the CCC's Contributions to Tennessee; Memorial Statue Announced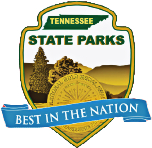 Jamestown, TN – Tennessee Department of Environment and Conservation Commissioner Jim Fyke was joined by Tennessee State Parks, elected officials and members of the community on Thursday, November 4th, at Pickett State Park for the official dedication of the park's new Civilian Conservation Corps Museum.
The museum features interpretative exhibits and artifacts, depicting the Civilian Conservation Corps' contributions to Tennessee's parks and natural areas, while recognizing the CCC's extensive efforts across the country.  An interactive touch-screen exhibit gives visitors an opportunity to hear directly from former CCC workers, sharing their stories about their time working to construct Pickett State Park.  Developed by Tennessee State Parks, the museum is in the same location of the former park office, constructed by the CCC in the 1930s.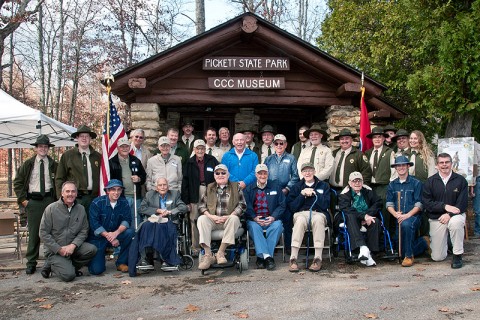 Yesterday's dedication program featured park interpreters, historians and period music.  Thirteen former CCC workers from across the state were in attendance as special guests. Descendants of CCC workers came from as far away as Jackson, Tennessee, to honor their fathers and to take part in this unique recognition. Former CCC worker Ben Hutcherson of Nashville brought his homemade banjo and entertained the crowd with songs he remembered from his experience in CCC Company # 1454.
"The new museum will recognize those young men of the CCC who left their mark on our public lands," said Commissioner Fyke.  "Few men have the satisfaction of knowing they made such a significant contribution in their lifetime – namely, one that will last through the ages and touch the lives of so many."
Fyke also announced that Tennessee will soon have its first CCC worker statue, which has been commissioned by Tennessee State Parks and will be placed at the museum's courtyard.  The six-foot, 400-pound bronze statue will be the 55th statue installed in the United States to honor the CCC's legacy.
Established in 1933 by the U.S. Congress as a measure of the New Deal program, the Civilian Conservation Corps provided work and vocational training for unemployed young men through conserving and developing the country's natural resources.  From 1933 to 1942, enrollees performed a variety of conservation activities, including reforestation, soil conservation, road construction, flood and fire control, and agricultural management. The CCC was instrumental in the development of a number of Tennessee State Parks, and the results of CCC members' efforts can still be enjoyed today.
The CCC built the first state parks in Tennessee, including Pickett, Reelfoot, Montgomery Bell, Norris Dam, South Cumberland, Big Ridge, T.O. Fuller, Nathan Bedford Forrest, Booker T. Washington, Harrison Bay, Cove Lake, Pickwick Landing and Cumberland Mountain State Parks.  They completed work in 17 different Tennessee State Parks. Many of their park structures are still in use today.
Approximately 70,000 Tennesseans served in the CCC in various locations around the country.  There were 77 CCC camps located throughout Tennessee.  Completed CCC work included dams, bridges, roads, buildings, parks and numerous restoration and conservation sites across the state.
Situated in a remote section of the Upper Cumberland Plateau, Pickett State Park is known for its geological, botanical and scenic wonders.  The park lies within the 19,200-acre Pickett State Forest and adjacent to the massive 120,000-acre Big South Fork National River and Recreation Area, both areas containing prime wilderness country.  Visitors to the park can explore large rock houses, natural sandstone bridges, scenic bluffs and wild mountain streams.  The park memorializes and preserves the unique work of the Civilian Conservation Corps, who first developed the park. 
Pickett State Park's Civilian Conservation Corps Museum is open from 8:00am to 4:30pm daily.  For additional information about the park, please visit www.tnstateparks.com/Pickett or call 931-879-5821.
Tennessee's 53 state parks offer diverse natural, recreational and cultural experiences for individuals, families, or business and professional groups.  State park features range from pristine natural areas to 18-hole championship golf courses.  For a free brochure about Tennessee State Parks, call toll free 1-888-867-2757. For additional information, visit our Web site at www.tnstateparks.com.