Clarksville, TN – The Holidays are when we usually spend time with our families and friends, but when our military is deployed to lands far away protecting our freedom it simply is not possible.
The Holiday Mail For Heroes Program through the American Red Cross allows a "touch of home" for all the men and women serving over the holiday season. The community is asked to sign cards with cheer and good wishes for service personnel and deliver them in an envelope, no postage necessary, to your local EXIT Realty offices.  Exit Realty has teamed up with the American Red Cross this year to show our troops that we do care and appreciate what they are doing to protect our country.  Holiday Mail for Heroes Makes a Difference.
EXIT Realty will then ship the cards to a Pitney Bowes sorting center where the cards will then be sent to military bases and hospitals, veteran's hospitals and other locations. The American Red Cross requests no glitter on the cards please. This initiative allows anyone in the community an opportunity to support all our men and women who have provided and continue to provide the freedoms we enjoy on a daily basis. However small "just a card" may seem, it will put a smile on the faces and in the hearts of our service personnel.
There will be a drop box at Exit Realty Clarksville ( 1289 Northfield Dr. Ste 3 Clarksville, TN 37040 ) along with other Exit Realty offices to collect these letters.
Blank cards are also being accepted. This will allow the opportunity to supply cards to many more  soldiers. How nice would it be to send a card to every soldie over seas.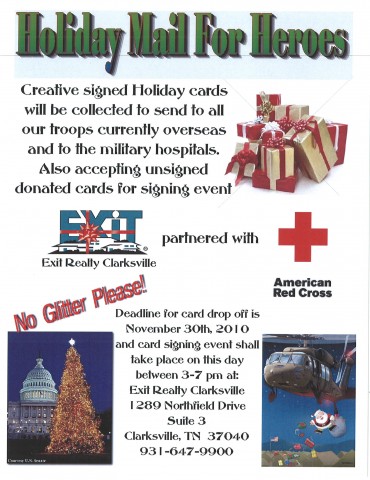 About Roland Woodworth
My name is Roland Woodworth, a professional REALTOR® with the experience & knowledge to assist you with all your real estate needs. My main area of focus is Clarksville TN , Oak Grove KY and the surrounding areas. I have over 12 years experience in the Real Estate industry and I'm a full time Realtor licensed in both Tennessee and Kentucky. I'm also a NAR Certified Short Sale & Foreclosure Resource.

I moved to Clarksville while stationed in the US Army at Ft Campbell, KY in 1992. I have been in sales in the area since 1996. I received my Real Estate license in 1999.   I have been involved in many community organizations including the Clarksville Area Chamber of Commerce where I was a Chamber Ambassador for 5 years. I was the Fair Chairman for the 2002 North Tennessee State Fair in Clarksville, TN, and also president of Fair Inc which is the governing board consisting of members of the Clarksville Jaycees, City of Clarksville and Montgomery County. I'm  also a member of the Clarksville Jaycees Volunteer Col. Corp. a past member of the Clarksville Jaycees and the Downtown Kiwanis Club. I participated in the 2005 and 2009 Clarksville Extreme Makeover Home Edition builds here in Clarksville – Montgomery County.

Web Site: http://www.ClarksvilleHomeInformation.com
Email:
Sections
Business
Topics
American Red Cross, Exit Realty, Holiday Cards for Soldiers, Holiday Mail For Heroes