A new Christmas tradition is beginning in downtown Springfield,Tn. Come share a "Christmas Down Home" on December 11, 12, 18 and 19. Audiences will be reminded what life was like in a small Southern town before malls were on every street corner and when Christmas was not just about receiving presents.
"Christmas Down Home" is an evening of music and storytelling in true Southern tradition. It will be presented at Burdett's Tea Shop in Springfield's historic downtown by an accomplished group of professional performers. In past years, you may have enjoyed the Southern Christmas Sampler presented by Mockingbird Theatre and Tennessee Repertory Theatre in Nashville.If so you will be familiar with some of the pieces that will be included in Christmas Down Home. You will fondly recall Gloria Houston's "The Year of the Perfect Christmas Tree" and Truman Capote's "A Christmas Memory" performed by David Alford and Paul Carrol Binkley.
"One might think of Christmas Down Home as a Prairie Home Companion, but Southern Christmas style." – David Alford
David Alford, originally from the small town of Adams, Tn attended Austin Peay State University as a music major, and from there went on to Julliard in New York where he worked in professional theatre there for several years. Recently he is most locally recognized for writing "SPIRIT: The Authentic Story of the Bell Witch" and "SMOKE: A Ballad of the Night Riders" which are performed each year in Adams,Tn. He has worked in theatre and film, and as Artistic Director of Tennessee Repertory Theatre and is presently the Director of Drama Programs at Martin Methodist College in Pulaski, Tn. You can even catch Alford this weekend at Austin Peay's Holiday Concert with David Stienquest.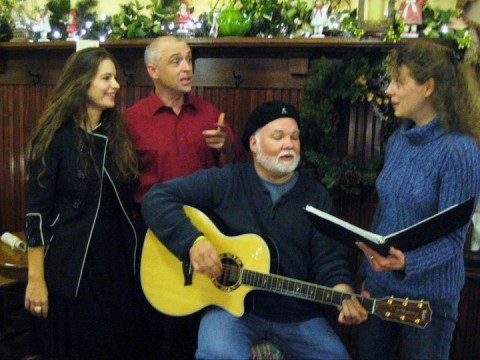 Paul Carrol Binkley, who is Musical Director at Tennessee Repertory Theatre and Nashville Children's Theatre. He has performed worldwide with the super-group Alabama."With Today in My Eyes" (from this show) will be featured on his Christmas CD, "Do You Hear What I Hear".
Erin Ramsey is also a native of Robertson County. A Vandy graduate, she works extensively with local theatre companies including Tennessee Repertory Theatre, Nashville Children's Theatre, Studio Tenn., Nashville Shakespeare Festival and Tennessee Shakespeare Festival.
Kahle Reardon holds a degree in drama from NYU and worked professionally in New York before moving to Nashville where she has worked as a professional actor and is presently employed by Martin Methodist College in their drama department.
Brad Albin and Toni Ferguson, who will be playing bass and fiddle, are both Nashville sessions players. In addition to studio recordings, they play live in multiple venues and are often seen on stage under the direction of Binkley in various theatrical productions such as "Tom Sawyer" for Nashville Children's Theatre, "Big River" for Tennessee Repertory Theatre and were both part of the musical ensemble for SMOKE.
A Southern evening of music and storytelling would not be complete without great food. A Holiday Dessert Buffet provided by Burdett's Tea Shop during intermission will satisfy anyone's sweet tooth with a wide variety of desserts to choose from. Christmas Down Home at Burdett's Tea Shop will be an evening you will long remember and cherish for its sweet nostalgia to a simpler time in your heart.
Performances are at 7:30 pm on December 11, 12, 18 and 19. Ticket prices are $45 for the show and dessert buffet. Call Burdett's Tea Shop at 384-2320 for more information or to purchase tickets