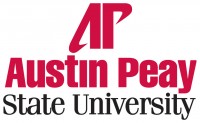 Clarksville, TN –  Austin Peay State University will send off 631 candidates for degrees during dual Winter Commencement ceremonies December 17th in the Dunn Center.
Dr. Karen Sorenson, professor of French and the 2010 APSU Alumni Association Distinguished Professor Award recipient, will be the keynote speaker at both commencement events.
The faculty member who earns the Distinguished Professor Award in May serves as commencement speaker at APSU's winter graduation.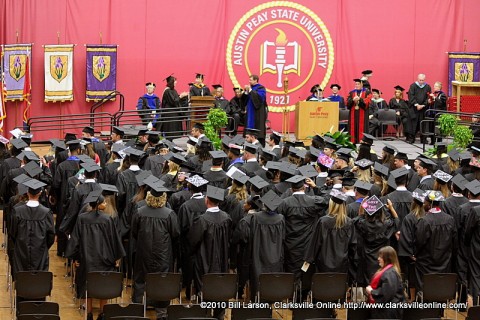 Sorenson obtained her B.A. in French at Beloit College in Beloit, WI, and her M.A. and Ph.D. from Vanderbilt University. Since 1987, she has been professor of French at APSU where she has taught courses in French language, culture, history and literature, as well as world literature and international studies. She coordinated the international studies minor from 2001-06 and serves as the current president of APSU's chapter of the Honor Society of Phi Kappa Phi.
In 1994, Sorenson established APSU's French immersion study-abroad program in Quebec, for which she serves as coordinator; created a one-to-one exchange program with the Université d'Orléans (coordinator, 2001-05); and, in 2010, established a new one-to-one exchange program with the Université du Québec à Chicoutimi. She is also a founding board member and current vice president of the Mid-Continent Consortium for International Education (1999-present), which provides language immersion study-abroad programs for eight universities in Tennessee and Kentucky.
Sorenson is a scholar of 19th century French poetry and art criticism. She is part of an international team of scholars under the direction of Wolfgang Drost, professor at the University of Siegen, Germany, and Marie-Hélène Girard-Devoret, professor at Université de Picardie, France and visiting professor at Yale University, producing a multivolume series of critical editions of French poet Théophile Gautier's reviews of the annual Paris Salon for French publisher Honoré Champion. 
At 10:00am, Friday, December 17th, students slated to earn degrees from the College of Arts and Letters, the College of Science and Mathematics and the School of Technology and Public Management will participate in commencement. At 2:00pm, the candidates for degrees from the College of Behavioral and Health Sciences, College of Business and College of Education will have commencement exercises.
Students who have filed for graduate degrees will participate in the commencement ceremony for the college that houses the academic program. For instance, if a student is on schedule to receive a Master of Arts in communication arts, the student would participate in the 10:00am ceremony with the College of Arts and Letters because the APSU Department of Communication belongs to that college.
In addition, five students enrolled as cadets in the University's Reserve Officers' Training Corps (ROTC) will be commissioned as officers at the conclusion of the 10:00am ceremony.
University officials are reporting there are 631 degree candidates for the December 17th ceremony. Of that number, 522 will participate in the ceremonies.
APSU began holding dual commencements in December 2008. Having two ceremonies is a significant milestone for APSU and is a result of the continued increase in the University's number of graduates over the past few years. This growth has made it very challenging to accommodate properly all of the degree candidates, faculty and guests in a single ceremony.
APSU will offer a free live webcast of each commencement ceremony. A link to the webcast will be made available on the University's homepage within 24 hours of each ceremony. The free Windows Media Player will be required in order to view successfully the webcast. Both ceremonies also will be broadcast live on Charter 99 and Clarksville Department of Electricity Lightband 9.
For more information about commencement exercises, contact the Office of the Registrar by telephone at 931-221-7121, or visit the APSU Web page at www.apsu.edu/Commencement/.