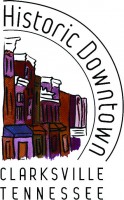 Clarksville, TN – Downtown Clarksville Association presents First Thursday ArtWalk Thursday, January 6th,  5:00pm to 8:00pm.
Downtown Artist Co-Op  will feature Friends of Photography. The Friends of Photography will feature a series of photographs titled "Shadows." What is the perception of a shadow, only the photographer will tell. The club has some seasoned photogs and some that are showing for the first time.
ARTifacts Emporium will feature Gabriele Wardeiner, Tutu Good and Oh Baby! Antiques. .  "Art should be serious fun" sort of sums up the way Gabriele Wardeiner approaches her encounters with pencils and brushes. Mostly self trained she just enjoys drawing, painting and trying new things on paper, board and even metal. She is also a certified "pack rat", which comes in handy creating the hundreds of truly unique, special greeting  cards you see in her booth. Rounding up the offerings are some interesting antiques, "almost" antiques and 14 K gold and silver jewelry.
Jennifer Gerasimas is the creative mind behind Tutu Good. Jennifer, a stay at home mom of a little girl, feels all girls deserve to feel special and unique. Jennifer makes tulle tutus in any size, length, and combination of colors. In addition to tutus, she also makes flower clips that can be worn a variety of ways – in the hair, on headbands or beanies, and on the front of the tutus.
Oh Baby! Antiques says, "I love painting old furniture and replacing the hardware or adding new detail.  Anything rusty speaks to me, as does vintage jewelry.  I love repurposing these items into unique wall hangings."
The Framemaker proudly presents "Terra Firma" – a portfolio of broadsides featuring poems from Zone 3, created by Austin Peay State University printmaking students using the University's Goldsmith Press & Rare Type Collection.  In 1985, APSU English professors David Till and Malcolm Glass set out to establish one of the South's preeminent poetry journals. Twenty-five years later the journal, Zone 3 has grown into a leading voice in the nation's network of literary magazines. This exhibition celebrates the magazine's 25 years of creative excellence.  A poetry reading of selected Zone 3 work will be held from 6:00pm to 7:00pm. The artwork will remain on display through January 28th during normal business hours: 10:00am to 5:00pm.  The Framemaker is located on the corner of North Second Street and Georgia Avenue, across from the Clarksville Academy. 
Hodgepodge will feature Beth Ryan, originally from Marion, Ohio.  Beth graduated from the Ohio State University with a degree in drawing/painting/printmaking, then put her art on hold while raising her kids and working first at a non-profit agency, then later in the public school system with special needs children.  Since moving to Clarksville, Beth has been very involved with performing in bands and ensembles with my flute, and giving flute lessons.  She is a member of the Robertson County Community Band in Springfield and The Cumberland Winds here in Clarksville.
Ingredients will feature The Sweetest Batch Cupcakery & Tara Neal.
The Sweetest Batch Cupcakery is proudly owned by Lisa Laflower and Katrina Kitchens. The mother-daughter team first opened up their doors on June 9th, 2010. Their famous jumbo cupcakes come in over 40 different and unique flavors and all of their gourmet cupcakes are made fresh, using only the finest ingredients available. Come meet Lisa and Katrina, taste their cupcakes and it will be love at first bite!
Tara Neal was born in Georgetown, DC and attended Virginia Commonwealth University where she received a BFA in Painting and Printmaking, Summa Cum Laude. She graduated from Savannah College of Art & Design in 2009 with an MFA in Painting. Ms. Neal has shown internationally in group shows, including a shows in France, Mexico, New York, and Savannah, GA. She currently resides in Clarksville, TN. Ms. Neal will present a variety of acrylic paintings featuring whimsical cupcakes based on cocktails.
The Roxy Regional Theatre's Peg Harvill Gallery will feature the work of photographic artist Cliff Whittaker, who specializes in mid-19th century impressionist-style images.  While at the theatre, be sure to get your tickets for the wildly popular Vagina Monologues, opening January 7th, as well as our children's show Once Upon A Time, opening January 15th.