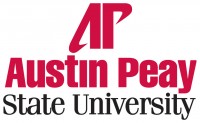 Clarksville, TN – Three employees at Austin Peay State University recently were recognized through their scholarly and professional activities.
Dr. Culley Carson-Grefe, professor of languages and literature, delivered a paper, titled "Teaching Business French:  A Communicative Approach," on January 11th at the Hawaii International Conference on Arts and Humanities.
Dr. Sergei Markov, associate professor of biology, had a paper, titled Bioreactor for glycerol conversion into H2 by bacterium Enterobacter aerogenes, published in the International Journal of Hydrogen Energy. This paper is about converting glycerol, by-product of biodiesel generation, into another biofuel, molecular hydrogen (H2) by a common bacterium. Two undergraduate students, Jared Averitt and Barbara Waldron, from the APSU Department of Biology are co-authors of this paper.
Melony Shemberger, assistant director of communication in the Office of Public Relations and Marketing, won a first-place news reporting award for best investigative story in the Kentucky Press Association's 2010 Excellence in Newspapers Contest. The award, announced at the KPA's annual winter convention, stems from her freelance work at the Todd County Standard in Elkton, KY.