Written by U.S. Army Cpl. Kam Gerohimos
Task Force Six Shooters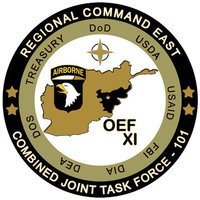 Nangarhar Province, Afghanistan – U.S. Army Lt. Col. Christopher Downey, Task Force Shooter, 10th Combat Aviation Brigade, TF Falcon, commander, along with a few of his pilots, visited U.S. Army Lt. Col. Will Johnson, TF Panther, 4th Brigade Combat Team, 101st Airborne Division, commander, January 29th to present him a gift to commemorate the recent collaboration of their units.
The task forces worked together during Operation Black Panther in western Nangarhar Province December 27th. With constant coordination, TF Shooter performed infills and exfills of ground cavalry troops while also providing reconnaissance and aerial support throughout the operational area.
"We enjoyed working with TF Panther," said Downey. "(The operation) was highly successful, and (it was) an honor to work with our fellow cavalrymen on the battlefield."    
Johnson opened a small wooden box which made a vicious panther growl and leaked a quite pungent and formidable scent of "panther cologne"; the gift inspired by a scene from the movie "Anchorman."  
"I think Lt. Col. Johnson got a kick out of it," said Downey, a native of Philadelphia. "We enjoyed ambushing him during his morning stand up for the presentation."
The panther cologne gift capped off an operation between two groups that, in the past, always fought together. Though modern cavalry units no longer integrate air and ground elements, a history of the units working together goes back decades.
During the Vietnam conflict, combined air cavalry forces, consisting of Kiowa and Cobra helicopters, worked together with their ground cavalry counterparts who travelled by tanks and armored cavalry assault vehicles. 
 
"I'm extremely happy how the panther box was received by Lt. Col. Johnson," said U.S. Army Capt. Scott Wohlford, an OH-58 Kiowa pilot with TF Shooter, 10th CAB, TF Falcon and a resident of Fort Drum, NY "It really shows how the tradition of the cavalry brotherhood is alive and well in the air and on the ground."