APSU Men's Tennis

Clarksville, TN – Austin Peay State University men's tennis team closed a two-match home stand with a 5-2 win against SIU Edwardsville, Saturday.
Behind sophomores Sean Bailey and Henrique Norbiato at No. 1 doubles, the Govs won their sixth-straight doubles point and cruised on singles, winning the top four to take the match.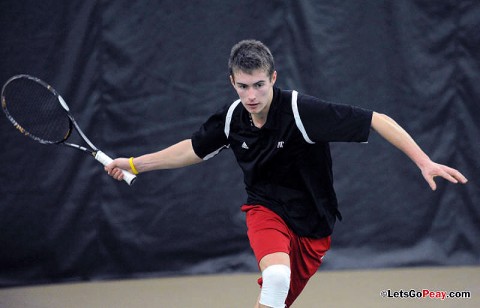 Bailey and Norbaito, a pair of All-OVC selections last season – won an 8-3 match at the top spot. Freshman Jasmin Ademovic and sophomore Drew Kerr hung on for a 9-7 win at No. 2, while sophomore John Storie and freshman Joao Pagan worked an 8-3 win at No. 3.
Ademovic had no trouble with Paulo Gonzalez at No. 1 singles, winning in straight-sets. Norbiato dispatched Justin Spicer at No. 2 singles without losing a game and Bailey dropped only two games in a straight-set win at No. 3. Pagan, playing his second-straight match at No. 4 singles also lost only two games in a straight-set win.
The Governors returns to action with their Ohio Valley Conference opener at 2:00pm, next Sunday, at Tennessee State. 
Austin Peay 5, SIU Edwardsville 2
Singles Competition
ADEMOVIC, Jasmin (APSU) def. GONZALEZ, Paulo (SIUE) 6-2, 6-2
NORBIATO, Henrique (APSU) def. SPICER, Justin (SIUE) 6-0, 6-0
BAILEY, Sean (APSU) def. FAULKENBERG, Devan (SIUE) 6-2, 6-0
PAGAN, Joao (APSU) def. VOGT, Ryan (SIUE) 6-0, 6-2
TANULANOND, Jacob (SIUE) def. STORIE, John (APSU) 2-6, 7-5, 10-8
CHAMBERLAIN, Michael (SIUE) def. CONATY, Peter (APSU) 6-3, 6-3
Doubles Competition
BAILEY, Sean/NORBIATO, Henrique (APSU) def. GONZALEZ, Paulo/SPICER, Justin (SIUE) 8-3
ADEMOVIC, Jasmin/KERR, Drew (APSU) def. CHAMBERLAIN, Michael/CHRISTENSEN, Morten (SIUE) 9-7
STORIE, John/PAGAN, Joao (APSU) def. VOGT, Ryan/TANULANOND, Jacob (SIUE) 8-3