APSU Men's Basketball

Nashville, TN – Austin Peay's bid for the Ohio Valley Conference championship and its seventh NCAA tournament appearance will begin 8:00pm, Thursday, as the Governors face Southeast Missouri in Municipal Auditorium.
The Governors enter the tourney as the No. 3 seed after finishing in a second-place tie with Morehead State, but the Eagles held the tiebreaker advantage over APSU. As a result, the Eagles will have benefit of two byes into the tournament semifinals while the Governors' drive to the title will start Thursday.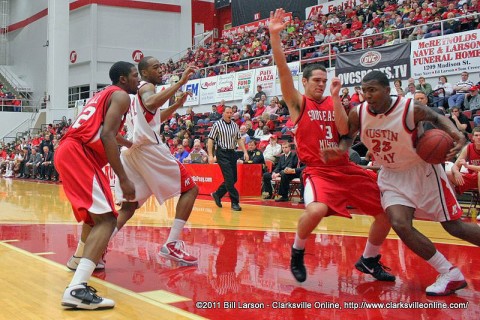 No. 7 seed Southeast Missouri enters the contest after upsetting No. 6 seed Eastern Kentucky, 65-49, Wednesday night. It snapped a seven-game losing streak in the series and was the first time the Redhawks ever defeated the Colonels during OVC tourney play.
The Redhawks are led by 6-7 redshirt junior forward Leon Powell, who is leading the nation in field-goal percentage (64.2 percent), is averaging 14.4 ppg while the guard trio of Marland Smith (12.2 ppg), Anthony Allison (11.5 ppg) and Lucas Nutt (10.2 ppg) all are averaging in double figures. Smith had 20 points, including six three pointers, to go with 11 rebounds against EKU.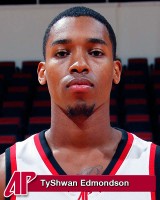 The Governors, meanwhile, enter the tournament having won four straight OVC contests, including holding its last two opponents to fewer than 60 points in defeating Eastern Illinois, 65-56, and SEMO, 75-52, last weekend. In fact, only Jacksonville State (70 points) reached 70 or more points during the final four league games.
It's no coincidence improved rebounding has augmented the defensive effort. The Govs have out-rebounded their last five opponents. In fact, the Govs have out-rebounded those five opponents by nearly eight rebounds per game.
Offensively, first-team All-OVC selection TyShwan Edmondson, after an early-February slump, enjoyed a late-season resurgence. The junior guard had 29 points at Fairfield and recorded his season's third double-double against Eastern Illinois.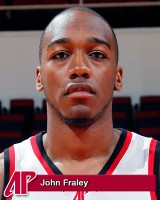 Junior forward Josh Terry (10.8 ppg) is another who shook a late-season slump to score 28 points over the last two games, including an 8-for-10 performance against Southeast Missouri, Saturday night.
Junior center John Fraley is averaging 15.4 ppg, shooting 75 percent from the floor, in the last five games, while also averaging 9.8 rpg. Freshman forward Will Triggs emergence also aided the inside game. He has averaged 12.2 ppg and 7.8 rpg since joining the starting lineup five games ago.
As the team's only senior, point guard Caleb Brown orchestrates the Govs on both ends of the floor. He is averaging 7.8 ppg and 4.9 apg on the season.
Fastbreak Points
This is the 46th meeting between the two clubs with Austin Peay holding a 30-15 advantage. APSU has won 11 of the last 12 meetings, including both contests this season. The Govs won 78-60, back on December 2nd in Cape Girardeau, MO, before rounding out the regular season last Saturday with a 75-52 home win.
Dave Loos, APSU's all-time winningest basketball coach, is 30-15 (29-13 at APSU, 1-2 at Christian Brothers) all-time against Southeast Missouri.
Dave Loos is 6-1 all-time against current Redhawks coach Dicky Nutt.• This is the two teams' first-ever neutral site meeting.
Austin Peay is 9-5 this season versus the teams competing in the tournament, including a 5-1 mark against those in its side of the bracket.