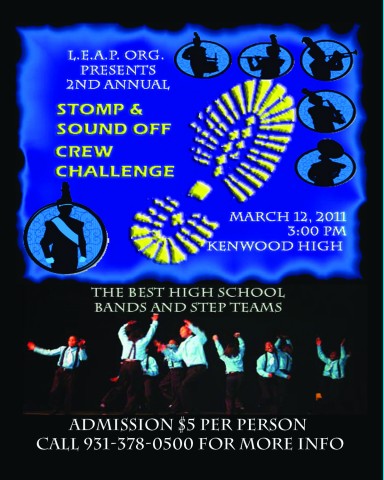 Clarksville, TN – On March 12th, 2011, The LEAP Organization hosted its 2nd Annual Step/Dance Show Competition at Kenwood High School. Prior to the event Daymar Institute facilitated a youth workshop in the theater. Guest Speakers shared inspirational messages and practical advice to students to help them be successful whether pursuing a college degree after school or entering the workforce immediately. Following the workshop students were advised to write an essay for an opportunity to receive a  $500.00 H.O.P.E. Scholarship. Congratulations to Precious Miller from West Creek High School who was awarded the scholarship during the Step/Dance Show.
Yolanda Stewart kicked off the event with a heartfelt rendition of the Nation Anthem along with Gospel Music artist J-rad performing two singles. Tamira Cole, Deztin (DJ) Pryor, and Justin "Jrad' Radford  kept the crowd of over 500 spectators engaged as they used their wit and charisma to host the event.
The Step/Dance Competition featured teams from Kenwood High, West Creek Middle, West Creek High, Hopkinsville High School as well as two Clarksville community based teams. As a special treat to spectators the Distinguished Steppers, Heart & Movement , and Unity 1.
Although each team gave a valiant effort, in the end their could be only one winner for each category to win the coveted $250.00 cash prize and bragging rights until next year. SMAC (Sisters Making a Change) won 1st Place for the Dance Competition and West Creek High School won 1st Place for the Step Competition.
The purpose of this event was to support the performing arts in our schools and well as aid LEAP in its mission develop and strengthen communities of productive citizenship with values of Leadership, Enlightenment, Academic Achievement, and Perseverance through faith, hope and love by providing mentoring, tutoring, affordable housing, and various assistance programs.
LEAP Founder, Richard "Reason" Garrett, had this to say following the event, "Tonight was a very humbling and amazing night. After thanking God and the many volunteers who worked diligently behind the scenes to pull off the 2nd Annual Stomp & Sound Off Crew Challenge, I have to thank the Clarksville Community for coming out and supporting this event. Special thanks to Frank Wilson and Kenwood High School for giving us this opportunity."
For more information about the LEAP Organization visit www.leaporg.net.