APSU Men's Tennis

Clarksville, TN – Austin Peay State University men's tennis team is set to resume Ohio Valley Conference play with a 2:00pm, Friday match at Eastern Kentucky, followed by a 2:00pm, Saturday match at Morehead State.
The Govs have one of the OVC's youngest teams, led by a pair of sophomores in Sean Bailey and Henrique Norbaito. Not only were the two sophomores both ranked in the league's preseason top-10, they opened the season with nine-straight doubles wins at the Govs top spot. It has been their strong play that has led to Austin Peay's rejuvenation in doubles.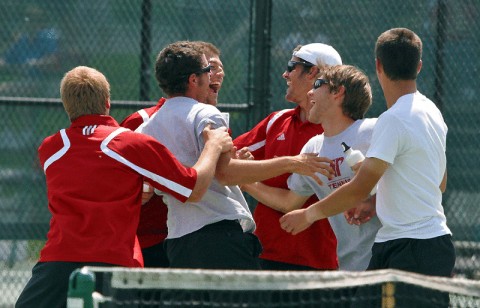 "We feel good about what we've accomplished so far," head coach Malik Tabet said. "Our team has improved and done a good job of approaching the things we've focused on. We've played enough matches to fix what we need to fix on our game in order to get better. Now, it's time to apply and hone those things."
It has been freshman Jasmin Ademovic topping the Govs singles lineup thus far, with Norbiato winning seven of his last eight matches at No. 2. Bailey, meanwhile, has won his last five matches at No. 3. More freshmen fill out the Govs lineup with Joao Pagan having played at Nos. 4, 5, and 6, and Remi Calleja also with an 8-7 singles record. Sophomore John Storie has been a contributor at Nos. 5 and 6, while also teaming with Pagan at No. 3 doubles.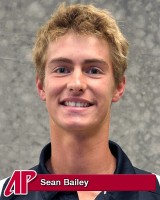 During its spring break swing, the Govs lost a 4-3 match to South Alabama, but defeated Division II power BYU Hawaii, despite losing the doubles point for the first time this season.
"They played a tough match against BYU Hawaii," Tabet said. "I thought we got a little comfortable in doubles, but losing that point really got our team fired up. I enjoyed the way John, Joao and Remi played their matches. We have to continue to do those things well heading into this weekend."
Eastern Kentucky boasts the top players in the OVC's preseason top-10 rankings – Alex Das and Hugo Klientovsky. Unlike the Govs, the Colonels won all three matches during their spring break trip and Klientovsky was named the OVC's Tennis Player of the Week. In fact, EKU has won nine of their last 10 matches, relying heavily on strong singles play throughout an experienced lineup.
Morehead State has won its last four matches, including a 5-2 win at Western Kentucky. The Eagles have struggled at the top, winning only 6 of 18 matches at Nos. 1 and 2, while still searching for their best lineup nine matches into the season. The Govs and Eagles split last season's two meetings, with Austin Peay ousting the Morehead State in the conference tournament.
"I feel comfortable about what we have to offer," Tabet said. "We have players that believe they can compete and bring home some points. What we're really paying attention too is how we perform in doubles."