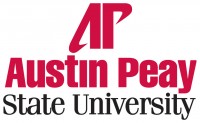 Clarksville, TN – What inspires fear or discomfort? Is what a person feels unique, or is it part of a collective consciousness? How do people respond to environment and atmosphere? These are the questions that inspire Austin Peay State University art student Jessica Griffin, who has been creating work digitally since childhood.
Raised by Nashville artist Stephanie Helmey and Architect Stephen Helmey, Griffin was encouraged from an early age to explore new media for expression. She uses computer modeling and image manipulation to explore the dark aspects of the human condition. In her new show "Forgotten Dementia[n]," which opens with a reception from 6:00pm to 8:00pm on March 28th in the Trahern Student Gallery, she focuses on asylums and society's rejection both of the patients sent there and, eventually, the institutions themselves.
"Insane asylums of the early twentieth century were places of true fear for their patients," Griffin said. "The patients themselves were often rejects of society, locked away and forgotten. They were subject to horrific 'treatments,' including electro-shock therapy and lobotomies. Today these asylums have been rejected from society, abandoned and neglected, dying slowly of decay."
Griffin simulates the experience of wandering through an abandoned asylum in her work. Using 3DS Max animation software, she creates her own version of a turn of the century asylum. The show includes a series of digital collages assembled from photographs and computer-generated models.
The show, which is free and open to the public, runs through April 1st.