The National Drowning Prevention Alliance (NDPA) released a video sponsored by the Consumer Product Safety Commission.  I have just watched it and I think it is absolutely excellent. The efforts of the NDPA and the CPSCs Pool Safely campaign will hopefully go a long way to reduce the number of drownings this summer and beyond. If you own a pool, please watch
Pool Safety is Important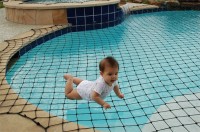 "With thousands of pool and spa related injuries and hundreds of deaths each year, the Pool Safely campaign is a reminder of how taking simple steps can save lives," said NDPA President Kim Tyson. "The NDPA is a key supporter of the Pool Safely campaign. Adding extra water safety steps in and around pools and spas can make all the difference. The NDPA's paper, 'Layers of Protection,' which can be downloaded for free at www.ndpa.org, can be used by pool owners as a resource in following the suggestions presented in the Pool Safely campaign."
The CPSC estimates each year nearly 300 children younger than five drown in swimming pools and spas and more than 4,200 children under the age of 15 go to hospital emergency rooms due to non-fatal submersions injuries. An unknown number of these hospitalizations result in permanent disability, including brain damage.
The greatest water safety assurance comes from adopting and practicing as many water safety measures as possible, including: staying close, being alert, and watching children in and around the pool; learning and practicing water safety skills (know how to swim and perform CPR); and having the appropriate equipment (compliant safety drain covers, alarms, fences and other barriers). The campaign will highlight the need to implement a "personal system of safety" consisting of as many proven water safety steps (or layers of protection) as possible.
For more information and to stay updated with the campaign, visit www.poolsafely.gov . For information useful in implementing Swim Safely campaign strategies, visit www.ndpa.org.
Editor's Note: The Pool Safety is Important section was added by Clarksville Online Editorial Staff from a National Drowning Prevention Alliance Press Release and was not written by Mario Vittone.