APSU Track and Field

Clarksville, TN – Austin Peay State University women's track and field won the inaugural Showdown on the Cumberland with a 90 team score, Friday, at Governors Stadium. Tennessee Tech finished second with 65 points, while Murray State came in third with 64.
As a final tune-up prior to the Ohio Valley Conference Outdoor Championships, hosted by Murray State, beginning Friday, the Showdown on the Cumberland proved to be an exciting, yet comfortable event for all three teams.
"I think we got out it what we wanted to," head coach Doug Molnar said. "This was nice relaxed atmosphere to get some good performances in. We've got to get some good studying in this week for finals and get the grades now. But this really fit the bill for us."
The Lady Govs had another strong day in the distance races, highlighted by freshman Xiamar Richards winning the 800-meter run. Her 2:17.46 time was more than five seconds faster than her previous personal best. Senior Janelle Avery also posted her second-best 1500-meter time (4:48.96) to win that race.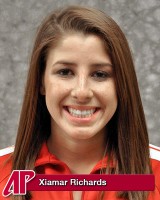 "Richards had a huge race in the 800-meter run," Molnar said. "That will really put her position to challenge next week in one of the league's toughest races. She's really moved up on the list and that's a great job. Janelle won her race wire-to-wire, setting her second-best time this year."
Also picking up wins were freshman Alyx Pinkston in the 400-meter dash (58.09), while also running the third leg in the Lady Govs winning 4×400-meter relay (4:01.67). Taelor Slaughter, who set a personal-best in the 400-meters (59.46) led off the relay, while Jasmine Scott ran third and Richards was the anchor.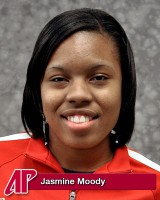 Jasmine Moody had a personal best in the 200-meter dash (26.35), finishing second, while Candace Cullors was behind her in third at 26.41. The 100-meter saw Cenitra Hudson place second (12.34) and Leigha Tolliver sixth (12.97)
The field events were led by Kevia Davis winning the long-jump at 5.18m, while Tolliver was second at 5.09m. April Holman finished second in the high jump at 1.62m, while Latoya Monger came in fourth with a personal record 1.57m height. Destiny Wilks (10.85) and Nicole Jamen (9.35) each had a personal-best throws in the shot put. Caitlin Tassel (3.04m) and Zakia Alcantara (2.89m) finished second and third, respectively, in the pole vault.
"We ran a real nice 1600-meter relay also," Molnar said. "Our vaulters looked good, our high jumpers looked good. I was quite pleased with everything today."