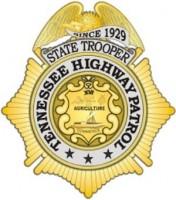 Nashville, TN – A Tennessee Highway Patrol (THP) trooper and his K-9 tracked down a convicted felon on Saturday night about 90 minutes after the prisoner escaped from the Meigs County Jail.
THP Trooper Kevin Hoppe and his K-9 "Aik" found Michael Vincent Young hiding underneath an outbuilding approximately three miles from the jail. Tennessee Department of Correction officials were scheduled to transport Young to prison on Monday. Young recently pleaded guilty to rape of a child and had been sentenced to 25 years in prison.
Young fled the Meigs County Jail on foot around 9:20pm Saturday after he had been removed from his cell to use a telephone. Trooper Hoppe, along with his K-9, and Lieutenant Daniel Ruskey were dispatched to the jail some 33 minutes after the escape. The two arrived within 24 minutes and were quickly taken to a subdivision approximately three miles away where there had been a reported sighting of the escapee.
Due to a large police presence and heavy foot traffic, "Aik" was initially unable to track the scent of the escapee. However, Trooper Hoppe and "Aik" did not give up. They continued to work the area, checking buildings, and even a boat. Within 29 minutes of arriving on the search scene, Trooper Hoppe and "Aik" found Young, who had crawled 15 feet underneath an outbuilding, hiding between the floor joists.
Lt. Ruskey and Trooper Hoppe took Young into custody and he was returned to the Meigs County Jail.
"If it had not been for Trooper Hoppe and K-9 'Aik,' the suspect could have been easily overlooked," said THP Colonel Tracy Trott. "Their perseverance paid off, and a violent offender is back behind bars. I am proud of them and their commitment to keeping their community safe," Col. Trott added.
Photos