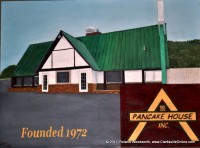 Clarksville, TN – G's Pancake House was featured on Lifetime Televisions Coming Home Sunday Night.
As soldiers with the 101st Airborne Division continue to come home from a year long deplyment to Afghanistan,  Lifetime Television had crews here filming selected family members for the new hit show Coming Home.
A group of about 30 people gathered at G's Pancake House to wat the show that featured the "Pancake Surprise" with the Vaughn Family.
The show is hosted by Matt Rogers features suprise family reunions as service members return from deployment. Episode 10 which aired Sunday May 15th, 2011 features a Fort Campbell, Kentucky family.
The kids miss their dads pancakes and they are helping cook for a pancakes breakfast support soldiers. But the suprise is on them as their father acutally was in the back room watching them via the internet. He even did a video chat with them all the while the children thought he was still in Afghanistan.
G's Pancake House is located at 803 Riverside Drive along with other locations on Fort Campbell Boulevard in Clarksville and Oak Grove, KY.
Watch the show here – Episode 10 (Short-Stack Surprise)