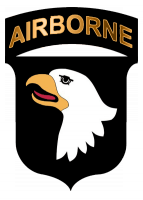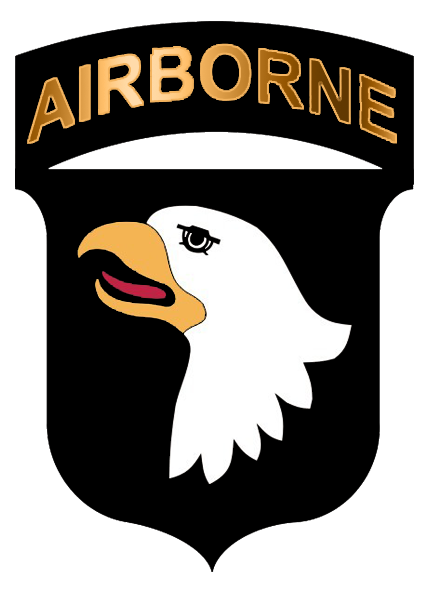 Fort Campbell, KY – Fort Campbell held a Welcome Home Ceremony today for elements of its 101st Headquarters and Headquarters Battalion; the flight included the 101st Airborne Division Flag; Fort Campbell's Commanding General Maj. Gen. John F. Campbell, Command Sgt. Maj. Scott Schroeder, and 25 soldiers.
Major General Campbell and his headquarters element began their most recent "rendezvous with destiny" in June, 2010 when they assumed responsibility and control of RC-East and CJTF-101.  Their mission was to conduct combined action counterinsurgency operations to protect the population, increase the competency, capacity, and credibility of Afghan institutions and defeat insurgent forces in partnership with the Government of the Islamic Republic of Afghanistan (GIRoA) and in close coordination with joint, interagency and multinational partners.
The soldiers of the Division faced a very tough fight during the deployment; 124 soldiers lost their lives while serving in the combat zone, with many more receiving life changing injuries. During his remarks, Maj. Gen. Campbell recognized the support the soldiers received from those back at home, from their family members as well as the community.
[wpaudio url="https://www.clarksvilleonline.com/wp-content/uploads/2011/05/PAO-Robert-Jenkins-.mp3″ text="Fort Campbell Public Affairs – Robert Jenkins" dl="0″]
Hank Bonecutter from WJZM 1400 AM was on hand conducting a live broadcast from the ceremony. He had interviews with many of the dignitaries who were attending.
[wpaudio url="http://wjzm.com/podcasts/podpress_trac/web/633/1/0520111.mp3″ text="WJZM 1400AM – The Bone Show live from Fort Campbell" dl="1″]
The 25 soldiers arrived on an Air Force C17 shortly after 8:10am. They then disembarked and moved from the aircraft to form up outside the hanger.
Once in formation the doors were opened and the soldiers marched inside to the cheers from their families.
The 101st Airborne Division colors were uncased by Maj. Gen. John F. Campbell and Command Sgt. Maj. Scott Schroeder. This marked the return of over 90% of the 101st Airborne Division. Units are schedule to return through August.
[wpaudio url="https://www.clarksvilleonline.com/wp-content/uploads/2011/05/LTC-Patrick-Seiber.mp3″ text="101st Airborne Division – LTC Patrick Seiber" dl="0″]
Many dignitaries were on hand to welcome the leadership of the 101st Airborne Division home. This included federal, state, and local politicians from both Tennessee and Kentucky.
Governor Steve Brashear, Senators Mitch McConnell and Rand Paul were on hand representing the State of Kentucky. Congresswoman Marsha Blackburn and Governor Bill Haslam represented the State of Tennessee.
[wpaudio url="https://www.clarksvilleonline.com/wp-content/uploads/2011/05/Marsha-Blackburn.mp3″ text="Dignitary – Congresswoman Marsha Blackburn" dl="0″]
On the local level the Mayors and City Council Members from Clarksville, TN; Oak Grove, KY; and Hopkinsville, KY were on hand.
Representatives from our City included Mayor Kim McMillan; City Council members Deanna McLaughlin and Nick Steward; Businessmen Jack B. Turner and Mike Malloy who is the owner of the Clarksville area Wendy's Restaurants; Phil and Bill Harpel who serve a dual role representing both Montgomery County and AUSA. Montgomery County Elizabeth Black the Public Information Officer for Montgomery County, EDC Chairman James Chavez, and Former Clarksville Mayor Ted Crozier Sr.
[wpaudio url="https://www.clarksvilleonline.com/wp-content/uploads/2011/05/Kim-McMillan.mp3″ text="Dignitary – Mayor Kim McMillan" dl="0″]
Country Singer Lee Greenwood and his wife Kimberly were on hand to welcome the troops home. During the ceremony Greenwood was called up on stage to sing his signature song "God Bless the USA," for the assembled soldiers and their families. Kimberly was Miss Tennessee USA in 1989, and is currently the executive director of Greenwood Productions which operates state pageants in Georgia, Mississippi, and Tennessee. She brought representatives from each of those state pageants along with her to attend the Welcome Home Ceremony: Ashley Durham, Miss Tennessee USA; Kaitlyn White, Miss Tennessee Teen USA; Keeley Patterson, Miss Mississippi USA; Sarah Bobo, Miss Mississippi Teen USA; and Kaylin Reque, Miss Georgia USA.
[wpaudio url="https://www.clarksvilleonline.com/wp-content/uploads/2011/05/Greenwood-Productions-Beauty-Qiueens.mp3″ text="Dignitary – Beauty Queens" dl="0″]
After the Ceremony, the soldiers were given 20 minutes to visit with their families before they were formed up and marched from the hanger to go turn in their gear before they were released to go home with their loved ones.
Photo Gallery