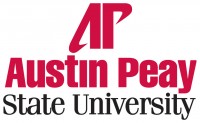 Clarksville, TN – The study of leadership is not just for high-achieving students or those majoring in business. Every student, no matter his academic discipline, can benefit from a curriculum rich in leadership.
Beginning this fall, Austin Peay State University will launch a revamped minor in leadership studies program that integrates theory, practice and research. The minor is open to all students.
The minor, housed in the APSU College of Behavioral and Health Sciences, requires 18 credit-hours of coursework that complements other University majors and programs.
Previously, the leadership studies minor was reserved primarily for students enrolled in the President's Emerging Leaders Program (PELP), a program that encourages students to apply leadership skills in real-life situations on campus or in community agencies.
"Many students who were not associated with PELP but wanted to take some of the courses had to hunt to find the minor," Dr. William Rayburn, coordinator of the leadership studies minor, said. "Now, we have structured this program so that it complements various majors and programs across campus."
Students choosing a minor in leadership studies will be able to elect one of two Leadership Seminar options. One is to follow an experiential emphasis that focuses on a service-learning component. The other is an investigative emphasis that is similar to an independent study.
"Both offer the capstone experience that tie together the key learning objectives from courses in the program," Rayburn said. 
In addition, if students are not interested in pursuing a minor in leadership studies, they are welcome to take a leadership course to fill requirements for general University electives. Two of the courses, LDSP 2100 Foundations of Leadership and LDSP 3130 Leadership Judgment and Decision Making, will be offered online in the fall.
For more information, notify Rayburn by telephone at 931-221-6377 or by email at .