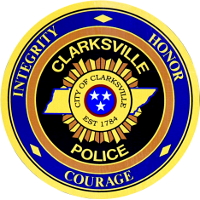 Clarksville, TN – Emergency responders were dispatched to Hazelwood Elementary School (2623 Tiny Town Road) this afternoon after a suspicious package was discovered by school personnel near the entrance to the school.
The Clarksville Police Department cordoned off the area, and ensured that all Clarksville-Montgomery County School System personnel were evacuated from the building.
Then the Montgomery County Sheriff's Department Bomb Squad sent their robot to inspect the object, and a short time later used a single shotgun blast to disable the suspicious package. The container turned out to be a Captain Jack Sparrow Compass box full of Pokemon trading cards.
The Bomb Squad as a matter of due caution must treat every call out as if it was a bomb, this ensures that if the suspicious package turns out to be a live explosive device they have done everything possible to protect life, limb, and property.
No children were present at the school when the object was found.
Photo Gallery
Sections
News
Topics
Clarksville Montgomery County School System, Clarksville Police Department, Jack Sparrow, Montgomery County Sheriff's Department, Montgomery County Sheriff's Department Bomb Squad, Pirates of the Caribbean, Pokémon, Tiny Town Road