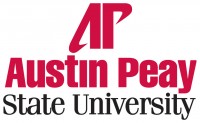 Clarksville, TN – Several faculty and staff members at Austin Peay State University share their recent professional and scholarly activities.
Chris Burawa, director of the Center of Excellence for the Creative Arts, had an article, titled "An Interview with Afaa Michael Weaver," published in the Summer 2011 edition of Contemporary Literature. The article also was written by Cynthia Hogue and Stacey Waite. Burawa also will have a poem, "Dripping Surgery," to appear in the October 2011 edition of Hayden's Ferry Review.
Dr. Marsha Lyle-Gonza, assistant professor of political science, and Dr. Becky J. Starnes, associate professor of public management and criminal justice, made presentations at the launch of the Clarksville-Montgomery County Nonprofit Partnership Network on September 22nd. Gonza's presentation was titled "It's All About Collaboration: The Greatest Good for the Greatest Number." Starnes' presentation was titled "It's All About: Breaking Paradigms and Building Alliances."
Joe Mills, assistant vice president of student affairs and director of housing, served on a panel of local housing and residential life professionals for a course on residential education at Vanderbilt University.
Dr. Bruce Myers, chair of the APSU Department of Computer Science, was installed as international director for Region 6 of Civitan International. Myers will represent Civitans in the Tennessee Valley and Great Lakes regions of the U.S. on the Civitan International Board of Directors. He has been an active Civitan since 1971. He has served as president of the Clarksville Civitan Club and governor of the Valley District. He has received numerous honors within the organization, including Distinguished Governor and the Valley District Honor Key.
Melony Shemberger, assistant director of communication, was a judge for a written communication category in the 2011 International Association of Business Communicators-Atlanta Golden Flame Awards.
Bill Wolf, John Gonteski and Rita Austin, all Physical Plant personnel, were recognized for their efforts in helping to extinguish two automobile fires in campus parking lots. Prior to the fires, they completed hands-on fire extinguisher training with the Clarksville Fire Department.