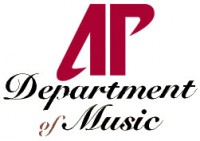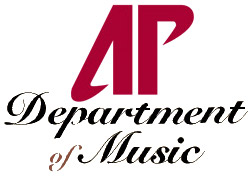 Clarksville, TN – "If I have to describe in one word what's going to be going on with this concert," Dr. David Steinquest said, leaning forward and rubbing his hands, "it would be 'magic.'"
He lifted his eyebrows as he spoke, as if the word itself contained supernatural properties. It's the type of showmanship one comes to expect from the Austin Peay State University professor of music, especially at this time of year.
Every October for the last 26 years, Steinquest has hosted the APSU Percussion Ensemble's Halloween Concert – an enormously popular performance that blends music with the mayhem of the season. This year's concert will consist of two performances at 6:00pm and 8:00pm on October 28th in the APSU Music/Mass Communication Concert Hall.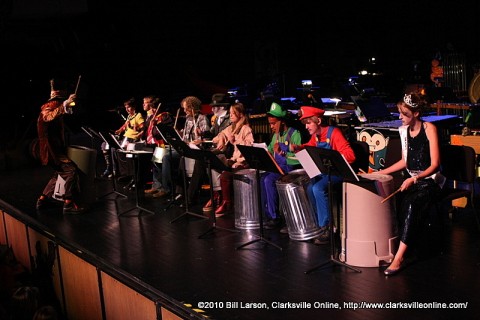 "It's a big party," Steinquest said. "We want it to be a good musical event too, but it's fun. It's not 'Saw VII' or anything like that. It's not ugly, scary or gruesome. It's family friendly."
Instead of going for scares, the concert brings out more of the fun elements of the season. It traditionally features APSU music faculty members and students dressed in costumes while performing on a ghoulishly decorated stage. Audience members also often come dressed in Halloween costumes, though that isn't a requirement for attending.
"The theme for this year is going to be 'magic," Steinquest said. "As an example, we're doing 'The Sorcerer's Apprentice,' which most people know from 'Fantasia.' We're also doing from (composer Gustav) Holst's 'The Planets,' one of the movements titled 'Uranus: The Magician.'"
The concert will also feature John William's "Hedwig's Theme," from the Harry Potter films and Philip Glass's score for the 2006 Edward Norton film "The Illusionist."
The ensemble will break out plastic "boom whacker" tubes halfway through the concert for an original interpretation of Mozart's "Queen of the Night," from his opera "The Magic Flute." That piece will be guest conducted by Dr. Gregory Wolynec, APSU associate professor of music.
"Because I'm getting old and tired," Steinquest said, "I have a couple of guest conductors – Greg Wolynec and John Schnettler (APSU assistant professor of music). When I run out of steam, I have tag team conductors."
Steinquest paused and looked around to see if anyone was eavesdropping. He had a secret about this year's program that he was ready to reveal.
"There's a new piece I have unearthed," he said in a quiet voice. "There is a lesser known relative of Wolfgang Amadeus Mozart. His name is Wolfman I'm-a-David Almost-art, and he actually wrote this 'Concerto Grosso for Hambone Trio.' If you don't know what hamboning is, you're going to have to come to the concert to see. The music world is all excited over this discovery."
(Spoiler alert: hamboning is the art of making music by slapping one's hand against his or her body to create a percussive effect.)
The concert will close with a performance of the Blue Man Group's Drumbone – a thundering rock 'n' roll piece.
"This concert includes the entire family of percussion," Steinquest said. "We use all the keyboard instruments, bells and xylophones. But still, we do some things that are just straight out beating and banging on drums."
The Halloween concert will feature special guest performers, such as APSU alumna Desirée Dolan singing soprano, APSU student and harpist Claire Davis, Nashville percussionists Chris Crockarell and Chris Brooks and an APSU group of professors and students known as "The Bad Brasses."
"They're apparently trouble makers," Steinquest said. "I'm a little nervous about them, but I think it'll be OK."
Admission to the concert is either two cans of food, which will be donated to the local Loaves and Fishes, or $3.00. For the last several years, the Halloween concerts have sold out before the night of the performance, so Steinquest suggests purchasing tickets in advance. For more information on the concert or to get tickets, contact the APSU Department of Music at 931.221.7818.