Clarksville, TN – A man who was released from jail and placed on Community Corrections, July 5th, 2011, for 5 years after  serving time for Robbery, has now been charged with Rape.
On November 4th, 2011, around 5:45am officers were called to a Peachers Mill Road business in reference to a woman being assaulted. A 38 year old woman told officers that she was walking in the area of Providence Boulevard when she accepted a ride from a man, later identified as Kevin George Jones, driving a Chevy Tahoe, TN tag, 481 XLK.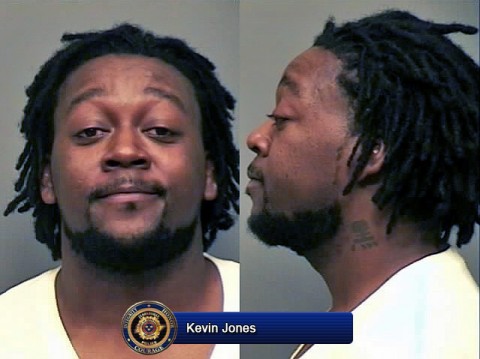 They discussed trading sex for money. When they did not come to an agreement, the woman tried to exit the vehicle, but found that the passenger side door handle did not function. The man pulled into a parking lot and told the woman she was going to have the sex with him.
The woman became afraid at this point and relented. Jones forced the woman to have sex with him without her consent and struck her in the face several times. The man forced the woman back into the vehicle, took her to Trice's Landing boat dock, and backed down so the rear of the Tahoe was in the water.
He told the victim to exit the vehicle and put her on her knees in the water. He forced her to have sex, grabbing her by the hair, and striking her at times. Jones then forced her head under the water to the point where she thought she was going to drown.
When the rape was completed, he drove to a business on the 1500 Block of Fort Campbell Boulevard, ordered her to remain naked and stay in the vehicle. The woman took this opportunity to escape, wearing a coat she grabbed as she fled. She flagged down a car which took her to another store where she was able to contact Police.
The lead investigator is Detective Nick Newman.
 
Kevin Jones
Name: Kevin George Jones (B/M)
DOB: 1/17/80
Given Address: 3320 Greenspoint Drive
Arresting Officer: Nicholas Newman
Charged With: Rape
Booked Into: Montgomery County Jail
Bond: $250,000.