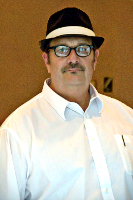 When Hemlock Semi-Conductor company decided to invest over two billion dollars in Clarksville/Montgomery County to build a new facility, the President and CEO of the Economic Development Council, James Chavez, was a major player.  He led a team of recruiters and staff to land the single most important economic partner this community has ever had.  Mayor Carolyn Bowers, though, feels Chavez needs to get back to work, "not rest on your laurels" and run the Economic Development Council "as it was originally created."
Tension in recent weeks has been running high as rumor and unfounded claims about behavior have dominated the discussion. Mayor Bowers was interviewed on Wjzm's "Clarksville in Review" and talked at length about the situation.
You can hear the entire interview here:   Clarksville In Review 12/17/11
When asked if she supported James Chavez, Bowers said, "He did a fantastic job (on landing HSC).  He was fully involved with everything to do with landing that partnership, but since then, I think some of the direction has changed.  I think that according to the by-laws of the Economic Development Council, and his contract, it was not set up for one person to be over all those organizations," Bowers said.
The organizations Bowers is referring to are the Industrial Development Board, the Clarksville Area Chamber of Commerce, and the Convention and Visitors Bureau.  The Economic Development Council was created to be an 'umbrella" over those agencies, and James Chavez is the President and CEO of the EDC.
Mayor Bowers said, "I think it's sort of evolved that he is supervising everybody in those agencies, and that's my concern.  All three of those organizations have a board of directors, and it's supposed to be a collaborative effort coming together for the good of the community, and those boards should be directing these agencies, but I think Mr. Chavez has too much power," Bowers said.  Mayor Bowers went on to say, "I think people should do their job.  As County Mayor, I'm responsible for the taxpayer's dollar, and I'm concerned about the people who work there.   Bowers also said, "I'm also concerned about what some at the state level are saying about James' job performance and behavior."   Mayor Bowers wouldn't elaborate.
Concerns about Chavez's job performance first arose during a recent evaluation, where he was advised about some changes that needed to be made before his next review.  Chavez said he agreed and has been making changes to work better with all of those involved. Chavez has another job review in early 2012.
An attempt made to fire Chavez at a recent executive committee meeting  failed.  Since then, the "street talk" has been fierce.
Mayor Bowers was asked about some of those rumors during this interview.  One involved her being upset at how she was treated during the Hemlock announcement ceremony at Austin Peay.
"Absolutely not," she replied. "I spoke at that event and didn't think a thing about where the County was listed in that ceremony."
What about the reception that was held at former Clarksville Mayor Johnny Piper's house?  It's been rumored that you were upset that it was held there, and are still angry about it?
"The County was TOLD that the reception was going to be held at Mayor Piper's house. The County didn't have any say so on that reception, and was told if we wanted our name on the event, we would have to pay half of the expenses related to the reception. It cost the County $14,000, and we didn't have anything to do with it."  Bowers went on to say, "Mayor and Mrs. Piper were very gracious to offer their home for that event, but they chose a Nashville caterer, and I felt there were local caterers in Clarksville we could have done business with. When we got to the reception, there was very little food."
We asked former mayor Johnny Piper about that, and he declined any public comment on this story.
Has James Chavez ever called you a name to your face?
Bowers replied, "My husband asked me that last night, because he had just heard that story today.  I said, ' No, where did you hear that?'  During a conversation about another situation, James used a word to describe that situation, but has never called me a name."
All of this has led  many community leaders and supporters to choose sides, and has the potential to divide this community at a time when everybody should be celebrating a strong local economy, and a promising future.
"I want this to come to some resolution and move forward," said Bowers.  "James Chavez and I have met, we've talked, we've cried, but I haven't seen a lot of change since those discussions."
"This is not about me, this is about our community, and the taxpayers who expect us to be responsible with their tax dollars. James can be kind, but at times I think he wants to be controlling. James is very smart, but things have come to a standstill at the EDC, and it needs to stop," Bowers said. "Whether James is part of the solution or not, it's too big to be bogged down with all of this controversy, and it needs to stop.  It's not about the individuals, it's about the job."
Currently,  a review of the Economic Development Council and its structure is being conducted. The intent of the review is to bring the member agencies together, and return it to the executive directors of the member agencies having input on the performance of the EDC, its President and CEO.