Clarksville, TN – David Preston Saunders was booked into Montgomery County Jail around 1:30am, this morning. Saunders was taken in custody after shoplifting at Kroger's, Dover Crossing. Clarksville Police are still looking for Joseph Brent Adkins.
The Loss Prevention officer confronted Saunders and Adkins, outside of the store after they had been seen shoplifting. Saunders returned to the store, but Adkins did not and left the area. Due to media coverage, the Loss Prevention officer recognized Saunders as a man Police were looking for. He detained Saunders until Police arrived.
For more on the story, see: Clarksville Police are Looking for Two Men on a Shoplifting Spree
David Saunders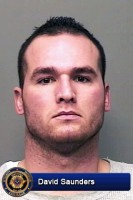 Name: David Preston Saunders (W/M)
DOB: 7/23/84
Given Address: 704 Pembrooke Avenue, Oak Grove, KY
Arresting Officer: John Matos
Charged With: Two Burglary, a Criminal Impersonation and Theft charges added to the nine warrants already pending.
Booked Into: Montgomery County Jail
Bond: $73,250.
His previous bonds were also revoked.
Sections
News
Topics
Bond, burglary, Clarksville Police Department, Clarksville TN, CPD, Dover Crossing, John Matos, Krogers, Montgomery County jail, Oak Grove KY, Theft