APSU Sports: Austin Peay Women's Tennis

Clarksville, TN – Austin Peay State University women's tennis team continues Ohio Valley Conference play a pair of weekend matches, beginning at 1:00pm, Saturday, when it hosts Southeast Missouri.

The Lady Govs then hit the road for a 2:00pm, Sunday match at UT Martin.

"These will both be good competitive matches," head coach Malik Tabet said. "I think our team was disappointed in its performance at Middle Tennessee. We came out flat and I think it's because they're a little wore out. I think we'll be rested and ready to go this weekend."

The Lady Govs have every reason to be fatigued after playing three matches in five days during Spring Break, returning home to host SIU Edwardsville and then playing a mid-week match against the Blue Raiders. During that stretch, Austin Peay went 2-5, picking up wins against Louisiana-Lafayette and OVC foe SIU Edwardsville. The losses came at Troy, South Alabama and Middle Tennessee.
Senior Vanja Tomic seemingly has returned to her dominant form reminiscent of her sophomore season when she was named OVC Player of the Year.
That season saw Tomic win 17 straight matches and this year, she already has reached 12 consecutive wins at No. 1 singles. For her most recent efforts, she was named the OVC's Athlete of the Week, Wednesday.
Only OVC play remains for the Lady Govs and it soon will be determined whether the bottom of the lineup can overcome its youth and provide the necessary depth to make a conference championship run.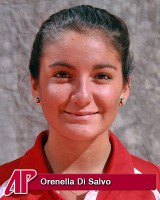 Freshmen Ornella Di Salvo and Alison Carre have played well at Nos. 2 and 3, but the bottom three spots have yielded only eight wins.
"We've got to improve our depth to make a run," Tabet said. "Championships are won at the bottom of the lineup and we haven't been strong enough there. Southeast Missouri has improved a lot, as a program, and UT Martin beat us, 4-3, last year. We'll have to play well to win."
The Redhawks and Skyhawks faced each other in OVC play, March 18th, with UT Martin winning, 6-1. Southeast Missouri has a 3-6 overall record, led by Elizabeth Nyenwe's 7-2 mark at No. 2 and Melissa Martin's 6-2 mark at No. 4. UT Martin is 3-8 overall, but also has an OVC win against Jacksonville State.
Sections
Sports
Topics
Alison Carre, APSU, APSU Athletics, APSU Sports, APSU Tennis, APSU Women's Tennis, Austin Peay State University, Blue Raiders, Clarksville TN, Elizabeth Nyenwe, Jacksonville State, Lady Govs, Louisiana-Lafayette, Malik Tabet, Melissa Martin, Middle Tennessee, Ohio Valley Conference, Ornella Di Salvo, OVC, Redhawks, SIU Edwardsville, Skyhawks, South Alabama, Southeast Missouri, Spring Break, Troy, UT-Martin, Vanja Tomic