APSU Sports: Austin Peay Football

Clarksville, TN – Redshirt freshman quarterback Jacob Sexton threw two first-half touchdown passes to offset sophomore running back Ean Pemberton's 107-yard rushing performance as the White team held off the Red team, 14-7, Thursday night, in the Red-White Spring game in Governors Stadium.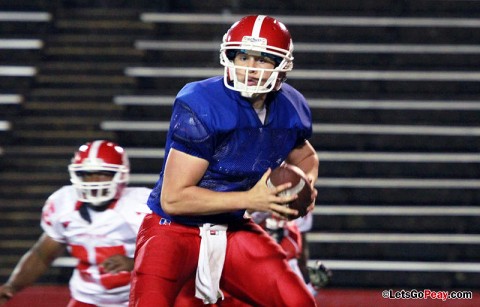 As a result, the White Team will receive Pig Bowl championship t-shirts in honor of the barbecue dinner that was provided to the football team after the scrimmage.
"It was a great way to end spring practice," APSU coach Rick Christophel said. "The best thing was we had no major injuries-a split lip-maybe a slight concussion-might have been the worst thing we had, that and maybe a bruised knee.  We had some guys make some plays on offense and we saw some good things from the defense.
"Overall we are getting better; we are getting to where we need to be. We still have a long way to go in getting ready for those first two games coming out the chute (Western Kentucky and Virginia Tech)."
Sexton, who redshirted a year ago, tossed a perfectly elevated alley-oop 16-yard TD pass to senior Devin Stark in the right corner of the end zone to begin the scoring in the opening quarter.
After Jake Ryan responded with a nine-yard TD toss to Justin Adams-Turner, Sexton came right back with a second scoring strike, this one prior to halftime to redshirt freshman Anthony Woodard, another lofted pass-this  one to the left side of the end zone.
Sexton finished 9 of 13 passing for 89 yards. Senior starter Jake Ryan, playing without favorite target Stark, ended the night 10 of 21 for 68 yards. Sophomore quarterback Landon Curtis ended the night 6 of 12 for 29 yards.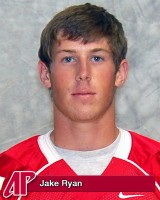 "Jacob really grew up during the last week or so,' Christophel said. "He threw a couple of TD passes and threw a couple of other nice passes.  He's a lot better here at the end."
Stark finished with three catches for 27 yards for the White team while Robert Lemon added four receptions for 53 yards. Tight end Ashlon Adams had five catches for 43 yards for the Red team.
Rushing-wise, Pemberton ended with 107 yards on 16 carries, including a 53 yarder that set up the Red team's only score. The speedy Pemberton was caught from behind by freshman J.J. Rutledge, the local product who transferred from Navy.
Wesley Kitts, who missed most of spring practice with a hamstring issue, finished with 24 yards on seven attempts while redshirt freshman Reco Williams bulled his for 28 yards on eight attempts.
"Overall, collectively, I think we are more athletic at running back," Christophel said. "I don't know if we have anyone as good as Ryan White (second on APSU's all-time rushing chart), but we are better overall.  It was good to see (senior running back) Wes Kitts out there really for the first time.
"Ean has been doing it all spring. If we can continue to keep him healthy and get him stronger , get him bigger and keep him on the field, that will be important."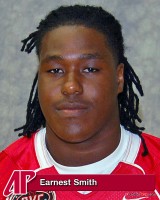 Defensively, end Earnest Smith, another local product who came to APSU as a walk-on, finished with four unassisted tackles, including two quarterback sacks and another tackle for loss, for the Red team Defensive back Jonathan Shuler led the Red team in overall stops with seven, including four un assisted stops.
"Earnest has made himself into a player,." Christophel said. "He really works in the weight room-he has gotten a lot stronger. He and (senior safety) Antwaun Majors are guys who have just worked to make themselves into good players."
The White team, meanwhile, received active play from safety Ricky Tinnin, who also had seven stops while the Govs leading tackler last fall, Majors, had two tackles for loss. Redshirt freshman safety Brad Wilmer had the game's only interception, that off a tipped pass for the Red team.