Austin Peay Baseball vs. SIU Edwardsville
Friday-Sunday, May 4th-6th, 2012 | Fri: 6:00pm | Sat & Sun: 1:00pm
Edwardsville, IL | Simmons Baseball Complex (1,000)

Clarksville, TN – Austin Peay State University's baseball team will look to bounce back from its first Ohio Valley Conference series loss since 2010 when it travels for a three-game league set at SIU Edwardsville.
The two teams will begin their series with a 6:00pm, Friday contest at Simmons Baseball Complex in Edwardsville, IL, before 1:00pm contests both Saturday and Sunday.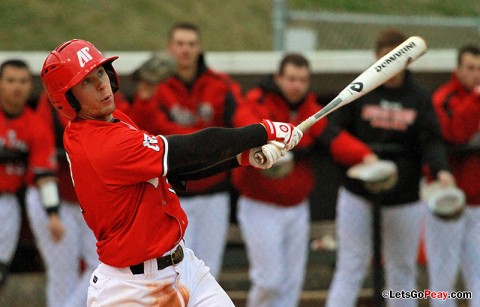 Austin Peay saw its OVC lead trimmed to one-half game after losing 2 of 3 to Jacksonville State last weekend, its first series loss since 2010. The Govs battled through an inconsistent April, posting a 9-7 (.563) mark during the month.
Junior shortstop Reed Harper batted a team-best .409 during April and is now batting .328 this season. Junior outfielder Cody Hudson batted .377, drove in 18 of his 28 RBI this season and ended the month with a career-best 10-game hit streak that is still active.
Hudson leads the Govs with a .333 batting average and a .548 slugging percentage entering the regular season's final month. He is one of five Govs batting .300 or better at this point with the team posting a .291 batting average. Senior third baseman Greg Bachman continues to lead the team in home runs (9) and RBI (42) and is batting .304. Sophomore second baseman Jordan Hankins ranks among the team's leaders in average (.317), home runs (5) and RBI (41).
On the mound, Austin Peay will continue with the rotation it used for the first time this season against Jacksonville State. Senior Zach Toney, who has a 2-0 record and a league-best 1.44 ERA in OVC games this season, will get the nod for Game 1.
Sophomore Ryan Quick will look to snap a streak of four consecutive games surrendering 6-plus runs that has bumped his OVC ERA to 6.86 while he sports a 3-2 record. Junior Casey Delgado, who has a 2-2 record and 4.83 ERA in OVC action, will hold down the No. 3 spot.
About SIU Edwardsville
The Cougars have won 5 of their last 7 contests, prior to a Thursday outing against Saint Louis, but lost 2 of 3 at Murray State last weekend and enter the weekend tied for fifth in the OVC standings. SIU Edwardsville is ranked 8th in team batting average (.270) and 7th in team ERA (5.97) but are the league's best fielding team (.977) with 17 fewer errors than any other OVC team this season.
Junior designated hitter Matt Highland leads the Cougars with a .321 batting average (24th in OVC), including a .345 mark in OVC play (19th). Sophomore outfielder Devin Caldwell leads SIUE with 6 home runs and is batting .256 this season.
Junior first baseman Joel Greatting and senior third baseman Zach Hawkins each have team-best 29 RBI and are among five Cougars posting 20 or more RBI this season.
Sophomore Travis Felax will make the Game 1 start, boasting a 1-2 record and 2.44 ERA in six league starts. Junior Josh Hoguet will get the nod in Game 2, bringing a 1-2 record and 5.61 ERA in 6 OVC starts into Saturday's contest. Senior Thad Hawkins has been the Cougars No. 3 starter in league play and has a 2-4 record and 10.66 ERA in six league outings.
Govs OVC Streak Comes To An End
Austin Peay's 1-2 series loss to Jacksonville State, April 27th-29th, brought an end to a long stretch of success in league play. The Govs put together a streak of 14 consecutive non-losing series, dating back to the next-to-last weekend of the 2010 regular season. Austin Peay was 31-9 (.775) in those 14 series.
Govs Suffer Through Sub-Par Weekend vs. Gamecocks
The Govs saw very little go right in its 1-2 series loss to Jacksonville State, April 27th-29th. The offense was held to 3 runs per game in the series after entering the weekend averaging 8.7 runs in 14 previous conference outings.
Austin Peay pitching didn't fare much better, allowing a 7.67 ERA and a .298 batting average to second-place Jacksonville State, well above its OVC averages of a 4.63 ERA and .263 opponents batting average. Even the defense struggled, posting 7 errors and a .943 fielding percentage.
Week 11: Toney Earns Adidas/OVC Weekly Honor
Senior starter Zach Toney made his first career conference start in the No. 1 spot, April 27th, against Jacksonville State. The senior right hander led APSU to its only victory, holding the second-place Gamecocks to one hit and zero runs over his eight innings to earn adidas OVC co-Player of the Week honors.
After walking the bases loaded and working out of the jam in the first, Toney surrendered only a third-inning walk before allowing his lone base hit with one out in the fifth. That hit seemed to galvanize the Govs hurler as he retired the final 14 batters he faced.
Probable Starting Pitchers
| | | | | |
| --- | --- | --- | --- | --- |
| Date | Time (CT) | Austin Peay Starter | Opponent's Starter | APSU Radio/Internet |
| Fri. | 6:00pm. | LHP Zach Toney | RHP Travis Felax | WVRY 105.1 FM |
| | | (Sr., 3-2, 3.29 ERA) | (So., 5-3, 2.99 ERA | LetsGoPeay.com |
| Sat. | 1:00pm. | RHP Ryan Quick | RHP Josh Hoguet | WVRY 105.1 FM |
| | | (RSo., 3-2, 4.79 ERA) | (Jr., 2-5, 7.01 ERA | LetsGoPeay.com |
| Sun. | 1:00pm. | RHP Casey Delgado | RHP Thad Hawkins | WVRY 105.1 FM |
| | | (Jr., 5-4, 6.25 ERA) | (Sr., 2-4, 8.36 ERA) | LetsGoPeay.com |
STATISTICAL COMPARISON: GOVS VS. COUGARS
TEAM
BA
RPG
HR
RBI
SLG
OBP
SB-A
ERA
H/9
BB/9
SO/9
BAA
FLD
APSU
.291
6.8
46
260
.444
.389
51-77
4.95
9.28
4.88
7.34
.269
.963
SIUE
.270
5.3
29
211
.398
.358
39-53
5.97
10.06
4.68
6.44
.291
.977