APSU Sports: Austin Peay Women's Soccer

Clarksville, TN – Eleven home games dot the Austin Peay State University women's soccer team's impressive 19-game schedule released Monday by head coach Kelley Guth.
The Lady Govs will open the 2012 schedule with a three-game road trip, beginning with an August 8th exhibition contest at Evansville. Austin Peay will open the regular-season with road contests against Arkansas and UALR, August 17th and 19th, respectively.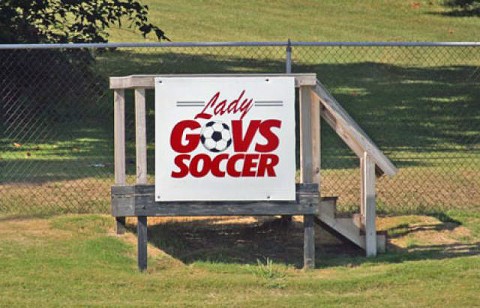 Austin Peay opens its massive home slate with a four-match homestand. The Lady Govs will host Appalachian State, August 24th, in the home opener. Austin Peay will then host Lipscomb, August 28th, before meeting Gonzaga for the first time in program history, August 31st. The Lady Govs open the season's second month with a September 2nd contest against Chattanooga.
A quick road trip to Miami University in Ohio, September 7th, serves as a brief respite before the Lady Govs host another three-game homestand. Austin Peay will wrap up its non-conference slate with a weekend pair against South Alabama and Alabama A&M, September 14th and 16th.
"I anticipate this schedule will be a tremendous challenge for our team," said Guth. "It is important for our players to be challenged in our non-conference season to prepare for league play. I feel we have a balanced schedule with some strong opponents. We also have several games scheduled against in-state rivals that are always a great match up."
The Lady Govs open their 2012 Ohio Valley Conference slate with a September 23rd contest against Murray State that also will wrap up that three-game homestand. Austin Peay also will host Belmont, Tennessee Tech, Jacksonville State and Eastern Kentucky in OVC action at Morgan Brothers Soccer Field. The Lady Govs' October 28th contest against Eastern Kentucky will conclude the regular-season slate.
Austin Peay's road slate in OVC play will not be as kind as it will travel to face four teams that qualified for the 2011 OVC tournament: tournament champions UT Martin, regular-season champion Southeast Missouri, Eastern Illinois and Morehead State. In addition, they travel to meet a SIU Edwardsville squad that would have qualified for the tournament as well.
"Our OVC schedule also will be a challenge this season," Guth said. "We will have to play well at home and secure wins against quality teams. Going on the road and picking up points will also be important but it will be difficult again in our conference."
The 10-game OVC slate leads up to the six-team OVC Women's Soccer Championship, which will be hosted by the regular-season champion, November 1st-4th. It will be the fourth consecutive season the league has played the entire tournament at one site, with the top two teams receiving byes into the semifinal round.
2012 APSU Soccer Schedule
Date

Opponent

Location

Time (CT)

August
Wed, Aug 8
at Evansville
Evansville, Ind.
6:00 p.m.
Fri, Aug 17
at Arkansas
Fayetteville, Ark.
7:00 p.m.
Sun, Aug 19
at UALR
Little Rock Ark.
1:00 a.m.
Fri, Aug 24
Appalachian State
Clarksville, Tenn.
7:00 p.m.
Tue, Aug 28
Lipscomb
Clarksville, Tenn.
7:00 p.m.
Fri, Aug 31
Gonzaga
Clarksville, Tenn.
7:00 p.m.
September
Sun, Sept. 2
Chattanooga
Clarksville, Tenn.
2:00 p.m.
Fri, Sept. 7
at Miami (Ohio)
Oxford, Ohio
4:00 p.m.
Fri, Sept 14
South Alabama
Clarksville, Tenn.
7:00 p.m.
Sun, Sep 16
Alabama A&M
Clarksville, Tenn.
2:00 p.m.
Sun, Sep 23
Murray State *
Clarksville, Tenn.
2:00 p.m.
Fri, Sep 28
at UT Martin *
Martin, Tenn.
7:00 p.m.
Sun, Sep 30
at Southeast Missouri *
Cape Girardeau, Mo.
1:00 p.m.
October
Sun, Oct 7
Belmont *
Clarksville, Tenn.
2:00 p.m.
Fri, Oct 12
at Eastern Illinois *
Charleston, Ill.
1:00 p.m.
Sun, Oct 14
at SIU Edwardsville *
Edwardsville, Ill.
1:00 a.m.
Fri, Oct 19
Tennessee Tech *
Clarksville, Tenn.
7:00 p.m.
Sun, Oct 21
Jacksonville State *
Clarksville, Tenn.
2:00 p.m.
Fri, Oct 26
at Morehead State *
Morehead, Ky.
6:00 p.m.
Sun, Oct 28
Eastern Kentucky *
Clarksville, Tenn.
2:00 p.m.
2012 Ohio Valley Conference Soccer Championship
Thu, Nov 1st –
Sun, Nov 4th
Championship
at TBA
TBA
* Denotes Ohio Valley Conference Game